'Brutal and shocking': First reactions & videos of London Bridge terror attack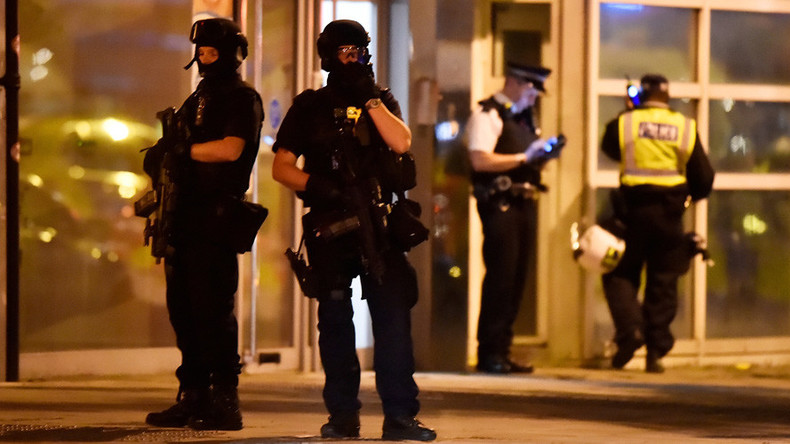 Videos have emerged showing the initial response to the Saturday night terrorist attack on the London area renowned for its bars and restaurants. The attackers rammed pedestrians with a van on London Bridge before carrying out stabbings in Borough Market.
LIVE UPDATES: Police declare London Bridge area attacks 'terrorist incidents'
The Metropolitan police provided regular updates throughout the evening, calling for calm and vigilance as they responded to the major security incident before later confirming that the incidents at London Bridge and Borough Market were, in fact, being treated as terrorist attacks.
Armed police were called to evacuate and secure multiple tube stations, including the Bank station, as part of their security operation.
Meanwhile, footage emerged of London police ordering patrons in bar in the Borough Market area to get on the ground and take cover.
Videos were also posted online showing ambulances on scene at London bridge and at Borough Market.
London Bridge and Borough Market were cordoned off to a distance of roughly 500m, according to local reports.
READ MORE: London Bridge terrorist act: Fatalities feared in vehicle ramming, stabbing attacks
This footage offers a bird's eye view of the unfolding scene at London Bridge on Sunday morning:
In the aftermath of the attack, London Mayor Sadiq Khan issued a statement describing the incident as a "cowardly terrorist attack."
Labour Leader Jeremy Corbyn was quick to express his condolences for the victims' families and his gratitude for the work of the emergency services.
EU Commission President Jean-Claude Juncker said he was also monitoring the situation.
US President Donald Trump wasted no time in offering support to the UK and the British people in the aftermath of three incidents in London Saturday. He also seized the opportunity to push his travel ban once again.
Canadian Prime Minister Justin Trudeau also took to Twitter offering information for Canadians in London to check in and stating that he was monitoring the situation.
US State Department spokesperson Heather Nauert encouraged any US citizens affected by the situation in London to contact their families and US authorities.
Scotland's First Minister Nicola Sturgeon gave her condolences to the families of the victims.
Outgoing Irish Prime Minister Enda Kenny expressed solidarity with the UK and confirmed that the Irish Embassy in London was also monitoring the situation for any Irish citizens that may have been affected.
French President Emmanuel Macron reaffirmed his country's solidarity with the UK.