London Bridge terrorist attack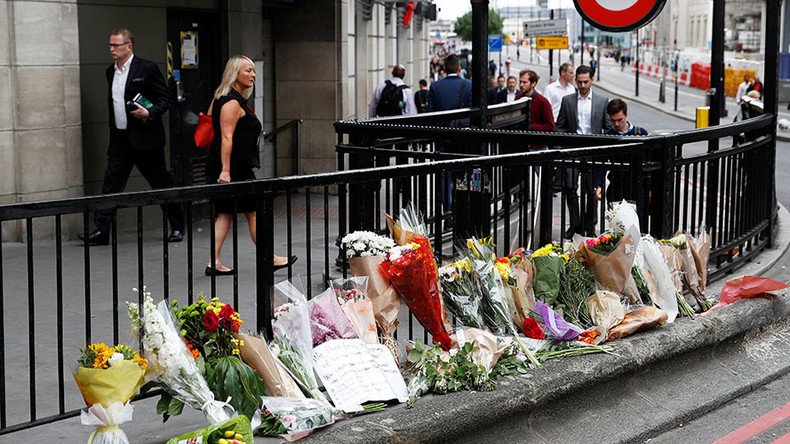 At least seven people died and up to 48 were injured after a terrorist attack on London Bridge. Police say three attackers mowed down civilians in a van before getting out and going on a stabbing spree in nearby Borough Market.
Armed police killed the attackers within 8 minutes of receiving reports of the unfolding events, according to London police.
Some 12 people have been arrested in connection with the terrorist attack, following police raids by at multiple addresses in Barking, east London.
05 June 2017

16:12 GMT

Jeremy Corbyn seems to have reversed his earlier call for Theresa May to resign as Prime Minister, Sky News reports.

The Labour leader had said on Monday morning that the PM should resign after presiding over 20,000 police officers being cut when she was home secretary.

The left-wing leader, however, rowed back on his appeal, saying he was merely "articulating what is deep anger amongst those people that have seen 20,000 police officers lose their jobs."

He added: "I think we should vote on Thursday to decide who our MPs are and decide who our government is."

15:56 GMT

Metropolitan Police commander for engagement Mak Chishty has called on the Muslim community to do more to tackle extremism.

Speaking outside Scotland Yard, the highest-ranking Muslim officer read out a statement on behalf of the Muslim community which said the London Bridge attack was an assault on all communities, including Muslims.

It urged "all sections within their own communities to root out the scourge of terrorism which hides amongst their own people and masquerades as Islam."

It added: "The Muslim community is alarmed and concerned that this attack by three people, which would have required planning ... was not reported.

"It is the Islamic duty of every Muslim to be loyal to the country in which they live. We are now asking questions to understand how extremism and hatred has taken hold
within some elements of our own communities."

Meanwhile, hundreds of imams and religious leaders from across the country made an unprecedented move by refusing to carry out the traditional Islamic funeral prayer for the terrorists, something which is generally performed for everyone, regardless of their actions.

In a statement, they condemned the attack and called for all other religious authorities to follow suit in refusing to grant the "privilege" of the funeral prayer.

It added that the "indefensible actions" of the terrorists are "completely at odds with the lofty teachings of Islam."

13:05 GMT

The number of people receiving critical care for injuries sustained in the London Bridge and Borough Market terrorist attack has fallen from 21 to 18, NHS England has said in a brief update.

It means King's College Hospital, the Royal London Hospital and University College Hospital each have one fewer patients receiving critical care.

13:04 GMT

The London Evening Standard has splashed Monday's edition with a picture of Canadian Christine Archibald, the first victim named in the London Bridge terrorist attack Saturday evening.

The front-page photo shows her with her fiancée, Tyler Ferguson. She reportedly died in his arms after being attacked by three men.

The perpetrators, who are yet to be named but are known to police, ploughed a van into a crowd on London Bridge before going on to stab people around Borough Market.

12:40 GMT

London Mayor Sadiq Khan and the Metropolitan Police Commissioner Cressida Dick have given a join statement in which they condemned the "cowardly and evil" acts by the perpetrators of the London Bridge attack.

Speaking at the scene of the attack, Dick said there are a "whole load of things to review" in the security system, while suggesting the "best solution" to ensure public safety in London would be having highly-mobile police officers. Dick, however, dismissed the idea of arming every police officer in the city.

Meanwhile, amid cuts to police funding, Khan said he would make sure the Metropolitan Police have the "tools" to ensure the safety of Londoners.

His comments come as Prime Minister Theresa May faces growing calls to resign for presiding over the cutting of 20,000 police officers during her tenure as home secretary.

11:26 GMT

Labour Party leader Jeremy Corbyn has joined growing calls for Theresa May to resign as Prime Minister over failures on security and cuts to police budgets.

BREAKING: @jeremycorbyn tells me Theresa May should resign as Prime Minister over her record regarding police funding

— rachel younger (@rachyoungeritv) June 5, 2017

Corbyn said he is backing similar calls for the PM to resign by "very responsible" people who are concerned about her record.

It comes after May accused Corbyn on Monday morning of an "abdication of leadership" over Brexit as she claimed the Labour chief is "not fit" to draw the UK out of the EU with a good deal.

11:09 GMT

The Archbishop of Canterbury Justin Welby has said religious leaders must take responsibility to counter violence perpetuated in the name of faith.

Speaking in the aftermath of the London Bridge terrorist attack, which the so-called Islamic State (IS, formerly ISIS/ISIL) has claimed responsibility for, Welby told the BBC's Today program that "religious tradition, scriptures have been twisted and misused by people" throughout the centuries to justify acts of violence.

"If something is happening in our faith tradition, we have to take responsibility for being very clear in countering it," the Archbishop said.

He added that dismissing the relation between incidents such as the London Bridge attack and the Islamic religion "is not getting us anywhere."

10:46 GMT

Theresa May has said "life and the democratic process" must go on following the London Bridge terrorist attack on Saturday evening.

Speaking at a campaign event at the Royal United Services Institute (RUSI) on Monday morning, May pledged to give "strong and stable" leadership, unlike her rival Labour leader Jeremy Corbyn, who has "no idea" what he wants for a post-Brexit Britain.

If Corbyn becomes prime minister, he would "fail" in his duty to keep the country safe given his views on scrapping the Trident nuclear weapons system. The Labour manifesto is committed to maintaining and renewing the weapons.

10:07 GMT

In a brief, pre-recorded statement released after chairing the COBRA emergency committee, Theresa May said the identity of the three London Bridge attackers are known to police.

She said the national terror threat level remains at "severe" and that security measures have been strengthened around London's main bridges.

The terror threat level had been temporarily raised to "critical" in the immediate aftermath of the Manchester Arena bombing before returning to severe.

The Prime Minister also said 11 people are now in police custody following the attack.

09:52 GMT

Labour's Barry Gardiner has accused Prime Minister Theresa May of undermining public safety by cutting security and intelligence services while she was home secretary.

Gardiner said the Prime Minister, who as home secretary presided over the cutting 20,000 police officers, must "take responsibility" for scaling back on security services.

It comes after Labour leader Jeremy Corbyn accused the Tory leader of trying "to protect the public on the cheap."