UKIP claims it's 'more important than ever' amid tense post-Manchester manifesto launch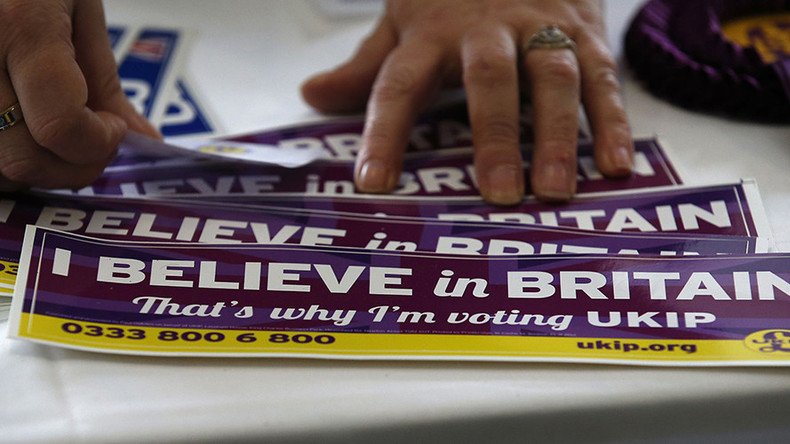 The launch of the UK Independence Party's (UKIP) election manifesto in the wake of the Manchester terrorist attack saw tensions between party members and journalists bubble to the surface.
Questions from the press were reportedly "shouted down" by supporters of the Euroskeptic group, which particularly took issue with the BBC's political editor, Laura Kuenssberg.

BuzzFeed's Jim Waterson tweeted the whole fracas, describing how UKIP members told Kuenssberg to "go back down your hole" and "don't you under English (sic)."

One of those to heckle reporters was none other than the 10th Earl of Dartmouth, William Legge, who is UKIP's MEP for South West England and Gibraltar.

"The BBC is fake news, BuzzFeed is not fake news but the BBC is fake news," he told Waterson as way of explaining the abuse shouted at Kuenssberg.
Earlier in the day, party leader Paul Nuttall seemed concerned over the party's plummeting poll ratings, commenting that UKIP was "more important than it has ever been" in the wake of the Manchester terrorist attack.
UKIP is the first party to restart campaigning after the bombing, which Nuttall argued was the best way to fight terrorism.
Speaking on BBC Radio 4's Today program ahead of the manifesto launch, Nuttall said: "What we need to do is to ensure that the prime minister goes into [Brexit] negotiations, confident in our great country and in the knowledge that if she begins to backslide that there is a party there that will rise in the polls, that will do well in local elections, that will put the pressure on and that's why UKIP is so important.
"In fact, UKIP is more important now than it has ever been because UKIP is the insurance policy for the country to ensure that we get the Brexit that people voted for last year."
Commenting on the Manchester tragedy that killed 22 people, Nuttall told the press Britain needed "a far more muscular approach" to social integration. He also backed seizing the passports of Brits who left to join Islamic State (IS, formerly ISIS/ISIL).
READ MORE: Nigel Farage vows to 'pick up a rifle' if Tories U-turn on Brexit
"I believe that anyone who leaves this country to fight for Islamic State should forfeit their passport, their citizenship, and never be allowed to return," he said at the manifesto launch in Westminster.
"The fact that this Islamist terrorist [in Manchester] targeted a concert which was primarily attended by children and teenagers simply proves that there is no depth to which these evil and warped individuals will not stoop," Nuttall added.
"When I was elected leader of UKIP six months ago, I was clear right away that the threat posed to our people by Islamic fundamentalism was one of the major issues I and indeed all politicians would face in the coming years. I also identified the need to take a far more muscular approach to social integration and against segregation as a key policy area."
brilliant flyer from a Suffolk UKIP candidate that just about manages to hold in the insanity until the last section, then blurts it all out pic.twitter.com/3yrDVyAZEp

— Jonathan Paige (@johnnypaige) 24 May 2017
The comments came after a former UKIP MP hopeful claimed that suicide bombers should be faced with the death penalty.
"Much needs to be done to eradicate this evil. But there is one simple step which we can take now: we must bring back the death penalty," one-time Folkstone and Hythe UKIP candidate Janice Atkinson said on Wednesday.
"This is the first time I have called for this. For decades I have shifted in both directions: taking any life is wrong: it's right to execute certain types of killers, but what about miscarriages of justice?
"I'm not wringing my hands trying to find answers, I'm a politician, it's my job to come up with answers. Today, we should announce that the death penalty will be brought back for terrorist crimes."
You can share this story on social media: