That's our policy! Tories accused of stealing ideas from UKIP & Labour
Published time: 15 May, 2017 15:41
Edited time: 10 Apr, 2018 13:17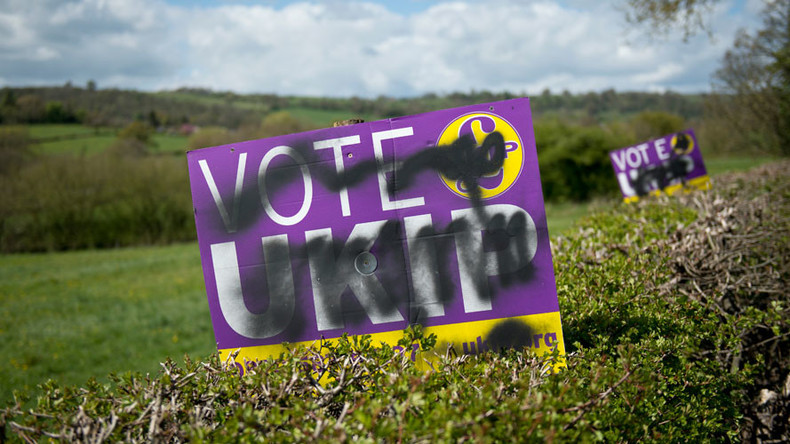 Officials of the UK Independence Party (UKIP) have accused Theresa May's Conservative Party of stealing their proposals, while vowing that the party will not be irrelevant after Brexit.
Patrick O'Flynn, UKIP's economic spokesman, mocked the Tories by urging them to "steal another policy" from the Euroskeptics' manifesto.
"We could, I think, be forgiven for finding it galling that the ever-pragmatic Tory party has lately donned so many of our clothes," O'Flynn added.
The jibe came after some had accused the Tories of stealing Labour's positions. The party pledged on Monday to work for an "expansion in workers' rights."
The Tory manifesto focuses specially on workers in the so-called "gig economy," like Uber and Deliveroo drivers.
"I said I would use Brexit to extend the protections and rights that workers enjoy, and our manifesto will deliver exactly that,"the PM said during a visit to a training facility in the south of England.
"By working with business, reducing taxes and dealing with the deficit, we have already delivered steady improvements to the economic prospects of working people. Now is the time to lock in that economic growth and ensure the proceeds are spread to everyone in our country."
May also suggested she would increase the national living wage if she wins on June 8.
However, Labour leader Jeremy Corbyn said the idea that the Tories are now the new party of workers "nonsense."
Speaking at the Royal College of Nursing conference in Liverpool, Corbyn mocked May.
"Would this be the same prime minister that presides over an economy where six million people earn less than the living wage, where a million are on zero hours contracts, that put in tribunal fees to prevent workers who suffer injustice at work from taking their case to an independent tribunal to get a fair hearing?" said Corbyn.
"This is such nonsense – this is a government that has damaged working conditions, that hasn't ensured safety or security at work, that doesn't guarantee rights at work from the first day of employment. Look at what we're suggesting, and you will see a real charter for workers' rights," he said.
Trade unionists agreed, with the general secretary of the public sector workers union PCS, Mark Serwotka, saying the PM's claim was a "joke."
For its part, UKIP has been finding it hard to justify its role in post-Brexit Britain, with O'Flynn attempting to reassure his supporters that the party still has much to offer.
"UKIP will continue to be the party that speaks up for those outside the Tory magic circle," he said during a policy launch event in Westminster.
"If we can get representatives into the House of Commons at this election, that task will be so much easier, but even if we can't, that task will be done," he said.