Tories smash Labour in local elections, UKIP obliterated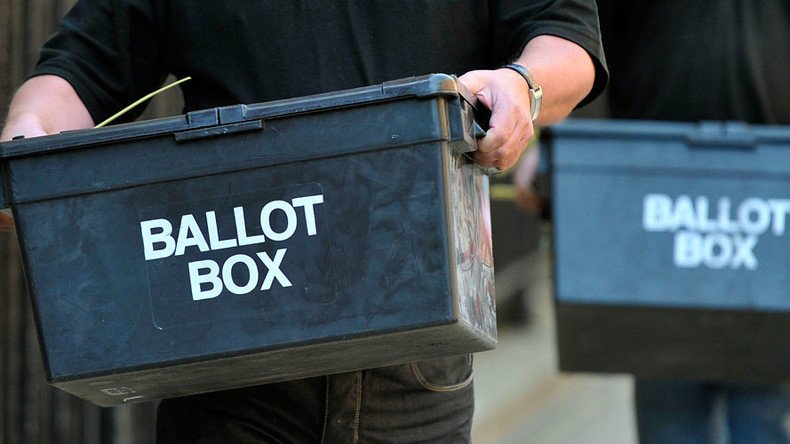 The prospect of a sweeping Tory general election victory grew on Friday after early local election results showed Labour suffering heavy losses, while UKIP faced total wipeout.
UK Prime Minister Theresa May's party made significant gains in England and Wales, just five weeks before the country goes to the polls for the June 8 general election.
The Conservatives appeared to benefit from the collapse of UKIP, now that the Tories have captured the pro-Brexit demographic.
Thousands of voters across England, Wales, and Scotland went to the polls on Thursday to decide the fate of almost 5,000 council seats and to elect six new metro mayors.
With full results now declared by 40 of the 88 councils holding elections, the Conservatives have control of 13 authorities and 1,059 seats, a net gain of 294 seats and seven councils.
Labour, meanwhile, have control of six authorities and 623 seats, a net loss of 212 seats and four councils. The party has lost overall control of its traditional stronghold of Glasgow City Council for the first time in nearly 40 years.
The Liberal Democrats have 239 seats, a net loss of 36. UKIP has won just one seat, a net loss of 81, while the Greens picked up 18, a net gain of four.
UKIP have lost all 10 seats they had prior to the election.
Labour: 'Not the wipeout people expected'
Shadow Chancellor John McDonnell acknowledged Labour had suffered a "tough" night as it struggled with some of its Welsh heartlands and failed to resist Tory advances in England.
He told ITV's Good Morning Britain the results were not "the wipeout that people expected" and insisted it is still "all to play for" in the general election in just five weeks' time.
Before the results came in, Labour played down expectations of the party's performance, accepting that Labour could be set to lose hundreds of council seats, particularly in Scotland and Wales.
"These elections are a challenging set of contests held in unique circumstances," a Labour spokesperson told the Guardian.
"They're individual contests being fought in very differing situations, from local council-level issue-driven campaigns up to large mayoral fights with some well-known politicians.
"Nonetheless, Labour has been making the case up and down the country that Labour representatives, both locally and nationally, will stand up for the many whilst the Conservative party stands up only for the few. That's what we'll be doing all the way through to June 8 and we are confident that will start to resonate as we get closer to that date."
UKIP: Obliterated
UKIP faces being wiped out at the ballot box after failing to hold onto a single seat at the local elections. Paul Nuttall's party lost all its seats in Lincolnshire, Hampshire, and Essex – all key battlegrounds for UKIP at next month's general election.
As a sign of how bad a night it endured, "UKIP 0" was trending on Twitter on Friday, as others said "RIP" to the party.
Curtice said UKIP "has lost everything they've been trying to defend."
Lisa Duffy, a former contender for UKIP's leadership, insisted the results are not a "disaster" but acknowledged they were "very disappointing."
"I won't use the word disaster," she told the BBC. "I'll use the word 'challenging.' We knew it was going to be a difficult night."
Conservatives: 'Not in the bag'
The Conservatives appeared to benefit from a collapse in UKIP's vote in England and Wales, a trend which will likely boost May's chances of strengthening her grip on power in the general election.
Curtice said the Tories had so far put forward their best election performance since at least 2008, with an average swing of seven points from Labour to the Tories since 2013.
Tory Defense Secretary Michael Fallon said the outcome is "very encouraging," but denied the general election is in the bag. Tory minister Brandon Lewis said May would take the early results as "encouraging" but that "there are still a lot of councils to declare."
"We can't assume that what happens in local elections will be automatically replicated in general elections," he told the BBC.
"There's a long way to go, there's a lot of work to do, we have got to work for every vote out there to make sure that we return Theresa May with a clear mandate on June 8."
Liberal Democrats: Not as bad as Labour
The Liberal Democrats have managed to cling onto more seats than Labour in England.
The party managed to increase its vote share and hold on to many of its seats. It is still suffering at the hands of the Tories and may struggle to get a substantial number of seats in next month's election.
On Friday morning, the Lib Dems had 111 councillors, a net loss of nine.
Sir Vince Cable, former Lib Dem business secretary, called the night "neutral," telling the Independent his party's overall vote share had increased significantly.
"We're in a relatively encouraging position, though there hasn't been a spectacular breakthrough," he said.
You can share this story on social media: