Theresa May endures radio phone-in from hell as medics attack Tory healthcare record
Published time: 12 May, 2017 11:41
Edited time: 13 May, 2017 11:39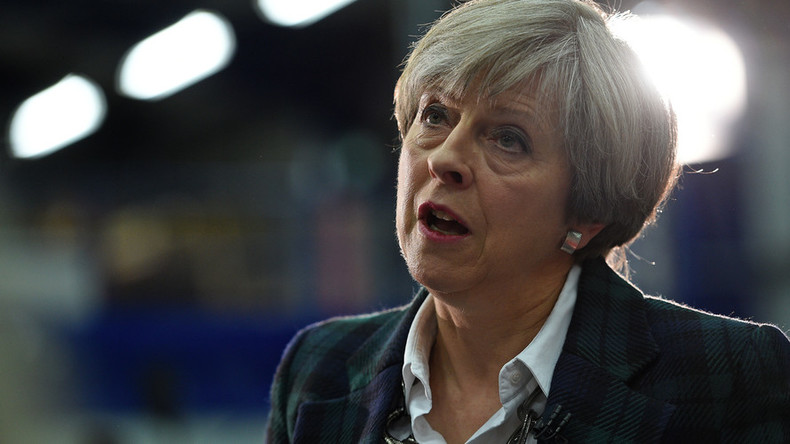 Prime Minister Theresa May was grilled on Thursday night by LBC radio listeners, including one furious doctor who is considering resigning from the medical profession over National Health Service (NHS) understaffing and low morale.
May was told by Romeena from Leeds that healthcare professionals are finding it "near impossible" to provide care for their patients. She said she is considering quitting after 12 years at the NHS "because things have got so bad on the shop floor."
"I've witnessed organ transplants being canceled because there haven't been enough nurses to provide postoperative care," she said.
The pediatrician also questioned why Tory Health Secretary Jeremy Hunt has been allowed to keep his job following doctors' strikes.
"Whatever the government is doing, it is clearly not enough – and you have reappointed as health secretary somebody who has demoralized the whole workforce.
"It seems like you stand up and support somebody who allowed junior doctors to go on strike, who seems to be allowing nurses to go on strike and that doesn't fall in line with what the frontline of the NHS want to see."
May replied by saying Hunt had done a "very good job" and is focusing on "quality of care." She added that she had experienced NHS treatment as a type 1 diabetic.
She claimed the Tories had responded to a request from the NHS for £10 billion (US$12.85 billion) by 2020 in real terms, although this figure is disputed.
May was hit with tough questions from members of the public over the state of public services, her record on failing to meet the Conservative target on immigration, low morale in the armed forces and insufficient help with childcare.
It comes as more than 100 NHS nurses signed an open letter to May, saying "the life of a nurse has become harder and harder in recent years." It says pay cuts have meant some nurses have had to leave the NHS to stack shelves in supermarkets and rely on foodbanks to eat.
The nurses say there are not always enough people on shifts to give patients proper care, and at home their families are paying the price for cuts to wage packets.
"The government failed to train enough new nurses and your cap on our pay means at least £3,000 less in our pockets each year," the letter says.
"How is it the case that, in 21st century Britain, some of our colleagues are forced to turn to foodbanks or ask for hardship grants just to make ends meet?
"It's a little wonder there are now 24,000 unfilled nursing jobs in the NHS in England.
"Years of real-terms pay cuts have left nurses heading for the door, with some going to stack shelves in the supermarket instead."
The letter urges May to scrap the 1 percent pay cap on nurses and fill the tens of thousands of vacant nursing jobs.