UKIP in crisis? Biggest donor & party spokesman jump ship amid 'war on Muslims' row
Published time: 25 Apr, 2017 15:59
Edited time: 10 Apr, 2018 13:19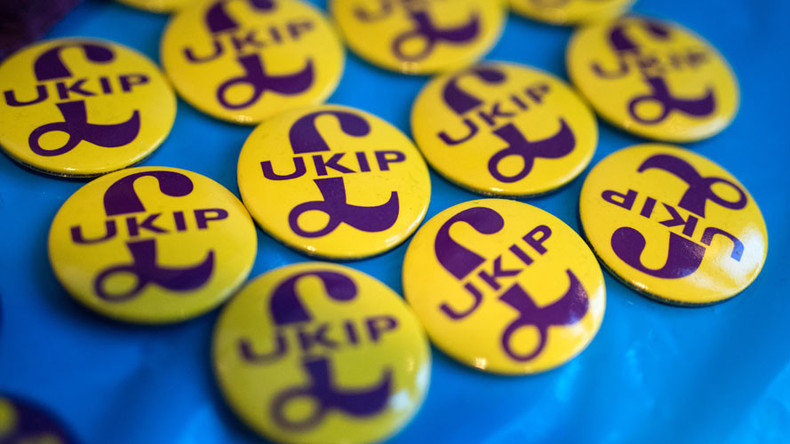 Not a full day had passed since the UK Independence Party (UKIP) launched its new 'integration agenda' when already two of its senior figures were denouncing the policy and resigning their posts.
First, its largest donor Arron Banks came out to call the set of policies a "war on Muslim religion," withdrawing his bid as UKIP's Clacton candidate in the general election of June 8.
Banks added that his party was going in "entirely the wrong direction" in a series of tweets criticizing the program. The proposals themselves included a call for a burka ban and mandatory annual checks on girls at risk of female genital mutilation.
"Not sure campaigning with the national party going in entirely the wrong direction is smart. I don't approve of the war on Muslim religion," Banks wrote on his social media page.
Then it was the turn of the party's West Midlands MEP, James Carver, to resign as foreign and commonwealth affairs spokesman in protest over the "integration" policies.
"I would be one of the first to condemn a ban on wearing a crucifix as an infringement of liberty. No-one has the right to dictate what people should wear," Carver said in his exit statement.
"When facial identification is necessary, such as at passport controls, or in a bank, then it is perfectly reasonable to order the removal of veils, as is the practice, but in a free and liberal society, people have a right to their religious beliefs, and to dress as they see fit."
He added that the "misguided" proposal to ban the Muslim face covering"undermines my desire to represent all communities within the West Midlands, including the many British Muslims, who, I know, from first-hand experience, voted to leave the EU in last year's referendum.
"This week sees the 21st anniversary of my UKIP membership, the party that I have campaigned so hard for, and still believe in. I have consistently spoken of my desire for a truly global perspective for the United Kingdom, outside of the European Union, and I see this policy as being incompatible with that aim," he added.
Despite the party's insistence that the "integration agenda" was not targeting the Muslim population, many called the policies "bigoted" and an "abuse of human rights."
Green Party leader Caroline Lucas branded the document "full-throttled Islamophobia."
In response, UKIP's education and apprenticeships spokesman, David Kurten, told RT that his party was not a "far-right" organization.