Convoy of nuclear warhead carriers 'breaks down' on public highway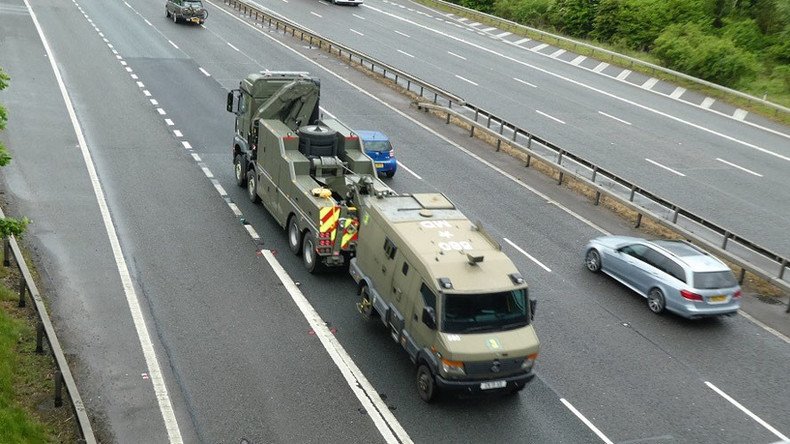 A military convoy of nuclear warhead carriers was left stranded on the side of the public M40 motorway on Monday when one of the vehicles in the escort broke down.
According to anti-nuclear campaign group Nukewatch, the convoy was left stranded at a slip road near Bicester on Monday morning. The vehicles were making their way from the warhead assembly plant at Burghfield.
Nukewatch said the trucks were heading to Coulport on Loch Long, Scotland, where warheads are stored and loaded aboard the Trident submarines.
It is unlikely an armed warhead would have been on the trucks, but they could have been carrying high explosive materials and highly radioactive plutonium.
A police officer channeled traffic from the slip road onto a lane around the stopped convoy before closing it down. The stricken vehicle was then towed away by an armored personnel carrier (APC).
"The breakdown happened to an escort vehicle rather than one of the warhead carrying trucks but clearly any vehicle can have problems," a Nukewatch spokesman said.
"The UK's Ministry of Defence is allowed to carry explosive and radioactive materials in the same transport – a procedure rationally outlawed for civil transport.
"It is probably only a matter of time before we have a serious accident involving these convoys. The transport of these weapons shows a disturbing disregard for public safety, which is put in second place by the government's determination to continue to deploy these horrific weapons of mass destruction."
The Ministry of Defence (MoD) said it does not comment on operational details of military convoys.
MoD statistics show that high explosive materials, such as the ones used on Trident submarine warheads, have an impact range of 600 meters and that the radiological plume could reach as far as 5km (3.1 miles).
You can share this story on social media: