Soldiers accidentally set fire to officers' mess with stray flare during kayak duel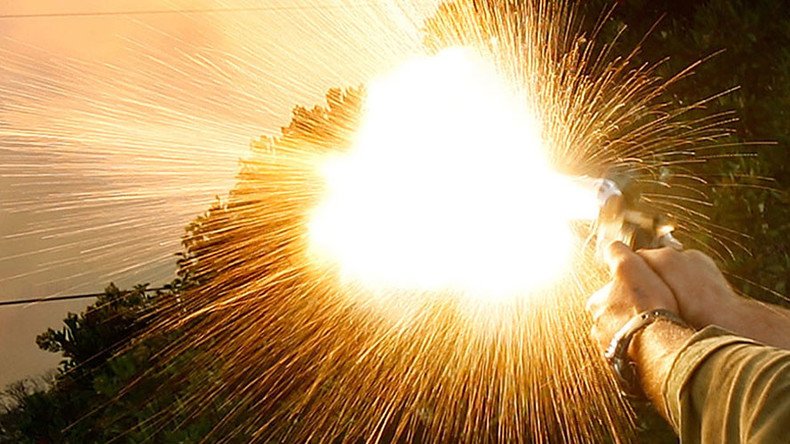 Ten fire trucks were required to extinguish a blaze at a military accommodation block after two newly-graduated cavalry officers accidentally set it ablaze while firing flares at each other from hijacked kayaks in an outdoor pool.
The fire occurred at Allenby Barracks in Bovington, following a boozy graduation ceremony for trainee tank commanders.
Both men involved were new second lieutenants who had just finished the 'Father and Son' dinner which marks qualification.
They reportedly got into kayaks in the camp's outdoor pool and set about dueling with rescue flare guns.
One flare appeared to have penetrated a seven-storey accommodation block, setting it alight and causing severe damage but no injuries.
The Royal Military Police (RMP) are now investigating.
One army source told Forces TV that whoever started the fire "is a legend and deserves some kind of reward."
The two officers were reportedly sent to join their units pending any disciplinary action following the investigation.
It has not been an easy month for junior recruits in the UK military.
Britain's Royal Navy is currently investigating whether a nuclear-powered submarine which hit a cargo ship near Gibraltar on Wednesday was under the control of a trainee officer.
The Astute class hunter-killer had to make for port with visible damage after colliding with a surface vessel on July 22.
The HMS Ambush was in the area as part of the Navy's 'Perisher' submarine command course, which is used to select new commanders.
As many as six officers were on the course, which sometimes includes trainees from other countries.
"These people generally already have a decade's worth of submarine experience and are aspiring to command," a navy source told the Telegraph on Friday.
You can share this story on social media: