Anti-nuke activists begin month-long blockade of atomic facility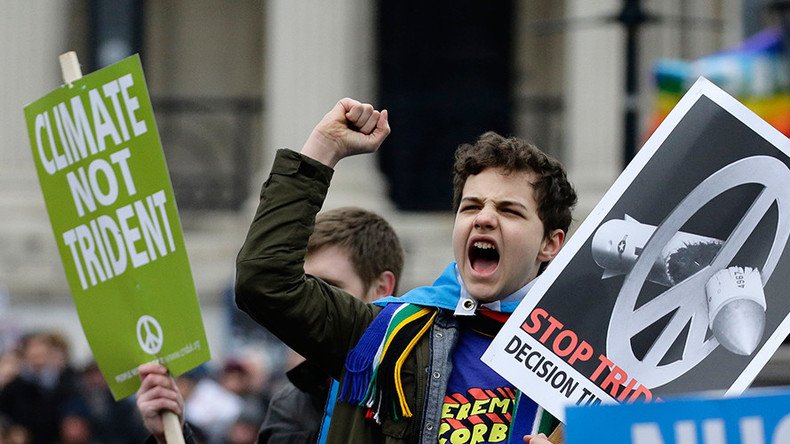 Anti-nuclear activists are starting a month-long protest against Britain's Trident nuclear weapons program, arguing it should not be renewed by Parliament later this year.
Peace campaigners are descending on AWE Burghfield in Berkshire, where Britain's nuclear warheads are maintained and go through their final stage of assembly.
Throughout June, Campaign for Nuclear Disarmament (CND) supporters will join activists from Trident Ploughshares and groups from across Europe to "blockade, to occupy, and to disrupt" the weapons manufacturing base.
Activists claim the renewal of Britain's at-sea nuclear deterrent is expensive, unsafe, ill-suited for contemporary warfare and in violation of international commitments.
The nuclear site at Burghfield is run by the Atomic Weapons Establishment (AWE), a controversial weapons company which is partly owned by US firm Lockheed Martin.
Last August, AWE was censured by UK regulators for failing to show a long-term plan for handling radioactive waste at its Aldermaston site.
The nuclear weapons factory also faces further action for failing to meet legal obligations to treat radioactive waste by 2014, according to a report published by the ONR last July.
Among the activists will be veteran peace campaigner Pat Arrowsmith, who was the organizer of the historic 1958 march from London to Aldermaston which saw thousands of people march against nuclear weapons.
British protesters will be joined by anti-nuke groups across Europe, including Women for Peace (Finland), Action Pour La Paix (Belgium) and Maison de la Vigilance (France).
"The vast [nuclear weapons] complexes at Burghfield and Aldermaston are founded on a wealth of resources and extraordinary human skill," CND General Secretary Kate Hudson said.
"What a tragedy that these are utilized for the production of weapons of mass destruction rather than being used instead to secure real human security and meet the real needs of our society."
The cost of replacing Trident and maintaining a successor program is expected to reach £205 billion (US$296 billion), according to campaigners.
The biggest expense by far is expected to be the day-to-day running costs. At £142 billion over the system's lifetime, they amount to 6 percent of the total UK defense budget.
Other expenses include decommissioning old warheads, the continued lease of warheads from the US and future refurbishment.
AWE Burghfield will undergo a £734 million upgrade as part of the Trident renewal.
You can share this story on social media: