Ex-Sun editor's 'Corbyn knifed to death by asylum seeker' comments 'incite hate, violence'
Published time: 3 May, 2017 09:55
Edited time: 5 May, 2017 07:45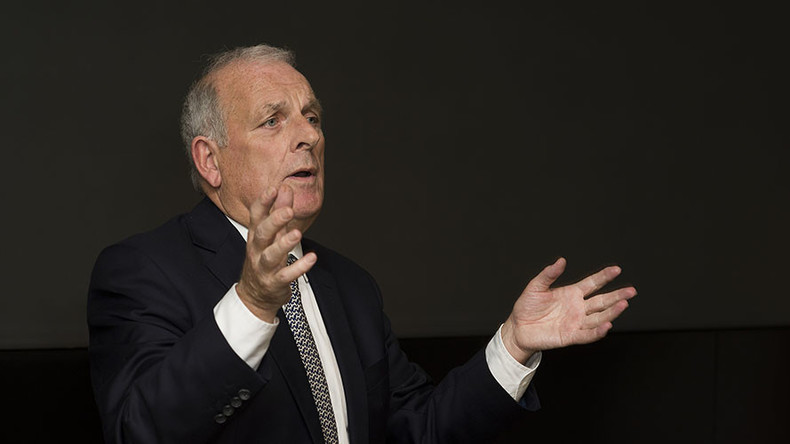 Kelvin MacKenzie, former editor of Rupert Murdoch-owned tabloid the Sun, has sparked outrage after saying one fake headline Britain would be pleased to see is: "Jeremy Corbyn knifed to death by an asylum seeker."
MacKenzie made the comments about the left-wing Labour Party leader during an interview with Katrin Bennhold, a New York Times journalist examining how the media portrays different Brexit-related issues.
The controversial former editor, who is currently suspended as a columnist after allegedly making "racist" comments about Everton footballer Ross Barkley, is reported to have called Bennhold the following morning, asking her to tone down his remarks.
He said that in light of the murder of Labour MP Jo Cox in the run up to the Brexit referendum, the headline would be seen in "poor taste." He asked her to use "Jeremy Corbyn Defrauded by Asylum Seeker" instead.
Cox was shot and stabbed to death by neo-Nazi Thomas Mair last year.
Following his comments about the Labour leader, MacKenzie was attacked on social media, branded a "degenerate lowlife" and a "rat."
Kelvin Mackenzie is a degenerate lowlife. Pass it on.

— Kate Maffin ❄️ (@KateMaffin) May 3, 2017
Please don't confuse me with Kelvin MacKenzie.
I am a hamster, he is a rat

— Hamster McKenzie (@HamsterMckenzie) May 3, 2017
Others said he represents "journalism at his worst."
MacKenzie has been suspended by the Sun after comparing Barkley to a gorilla in one of his columns last month and for denigrating the city of Liverpool.
He said Barkley, whose grandfather is from Nigeria, is "thick" and that every time he sees him he gets "a similar feeling when seeing a gorilla at the zoo."
He added that the only other people in Liverpool with an equivalent salary to the footballers are "drug dealers."
The article was later removed from the paper's website. A spokesman for the Sun's parent company News UK said the comments are "wrong, unfunny and are not the view of the paper."
MacKenzie has also admitted that some of the tabloid's headlines while he was editor were "untrue."
A source close to Corybn said MacKenzie's "disgusting language" made him "unfit" to be in charge of a media outlet, the Mirror reports.
The source said such language incites "hatred and violence."
"This sort of disgusting language should not be tolerated by anyone in the media, politics or any walk of life.
"We saw last year how overheated language in politics led to the murder of Jo Cox.
"Kelvin MacKenzie could find himself reported to the police for inciting hatred and violence against the leader of the opposition."