Boris Johnson calls Jeremy Corbyn a 'mutton-headed mugwump'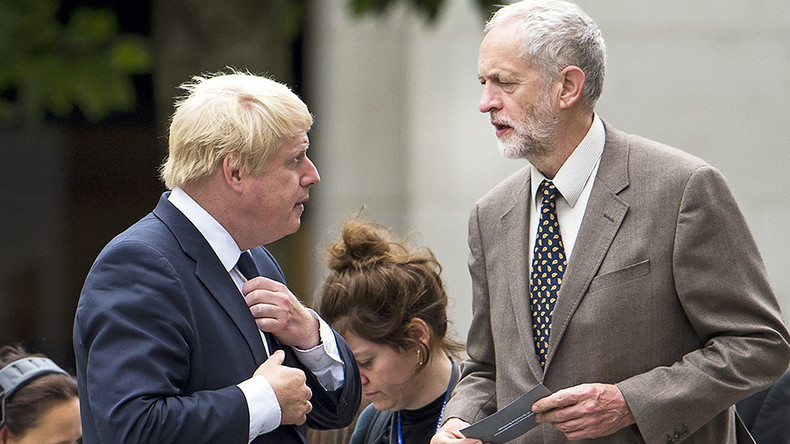 Labour leader Jeremy Corbyn is a 'mugwump' who fails to understand Britain must be strong in the world, Foreign Secretary Boris Johnson said.
The personal attack on Prime Minister Theresa May's main rival has been branded 'childish.'
Writing in the Rupert Murdoch-owned Sun newspaper, the foreign secretary said the Labour leader had little ability to deal with complex international issues like Islamic State (IS, formerly ISIS/ISIL) and North Korea.
The term 'mugwump' refers to someone who is politically aloof, and stands apart from party politics.
However, if you are a fan of the Harry Potter books and movie franchise, Johnson's name-calling could be considered a complement.
In J.K. Rowling's magical universe, the "supreme mugwump" is the title given to the head of the International Confederation of Wizards.
Equally complementary is the word's origin as a Native American term from the Algonquian tribe meaning "great chief."
Johnson is well known for his use of obscure and archaic words, a trait which has occasionally landed him in trouble.
He once referred to Commonwealth citizens with the racially-charged term 'piccaninnies.'
In his tabloid attack, Johnson said Corbyn is anti-NATO and opposed to nuclear weapons, despite the Labour chief stepping back from both positions since become leader.
Johnson said the public does not realize how dangerous Corbyn could be in Downing Street.
He also said the Labour chief does not have the capacity to deal with Russia, the "semi-deranged regime" of North Korea or IS, which Johnson described as an "evil Islamist death cult."
"He seems to have no grasp of the need for this country to be strong in the world," the foreign secretary added.
Responding to the comments, Shadow Foreign Secretary Emily Thornberry told the BBC Johnson is "delusional."
Corbyn said on Sunday that although he does not see nuclear weapons as the route to a safer world, he would continue to back Labour Party policy which backs their renewal.
Corbyn also said he would consider ending airstrikes against IS in Syria and push for all parties to return to the negotiating table in a bid to end the civil war.