British asylum anomaly leaves 'doctors driving cabs' (VIDEO)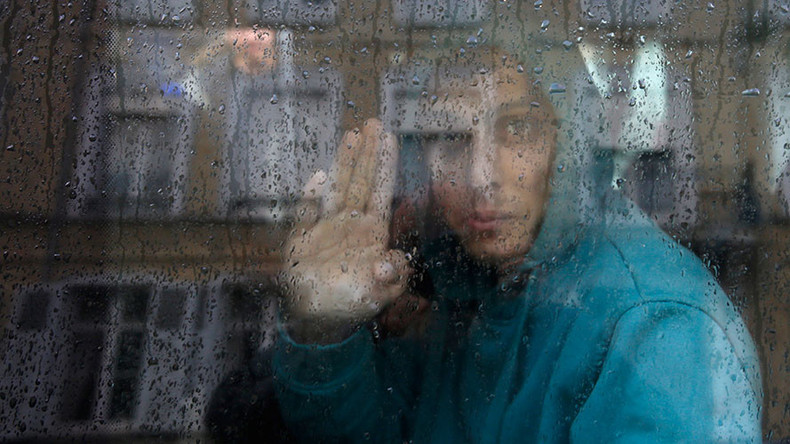 An "anomaly" exists in the UK's asylum system whereby people under so-called 'humanitarian protection' lack the same rights as refugees when it comes to accessing higher education, despite both groups fleeing persecution and similar traumas.
People under humanitarian protection, unlike refugees, must have lived in the UK for at least three years before they are able to access home tuition fees or student loans.
The policy can cause delays for people starting their studies, deterring them from pursuing their original career plans.
Humanitarian protection is offered if there are general risks posed by the death penalty, torture or other inhumane treatment in a person's home country. Refugee status is given to people facing danger as individuals because of their race, nationality or religion.
Speaking to RT, Student Action for Refugees (STAR) director Emma Williams said: "It's bad enough having lost everything and being subjected to horrific persecution, torture and […] lose your family and have to start again here.
"Having to the sit and wait for three years, having been told that you can stay in the country and we agree that you have a well-founded fear and you should stay here, to then have to wait is very challenging."
Williams said there are cases where people abandon their career plans because they are forced to wait three years before going to university.
"You see underemployment with refugees, significant underemployment, so I challenge anybody to ask their taxi driver where they are from and what they did before they came.
"It's a very depressing conversation to have, many, many people are refugees and they say 'Yeah in my country I was a doctor, but retraining was going to take me seven years and was going to cost me too much money so I didn't.'"
She added there is a "real lack of use of this amazing kind of resource that people are bringing."
If students are kept from going to university, they may fail to reach their full potential and fail to "give back to the country" all that they could, William said.
"Maybe the cure for cancer is sitting in someone's brain, but we haven't enabled them to go to university."
Campaigning for inclusion
Following a proposal to amend the Higher Education and Research Bill so that student finance is made accessible to all those who have been granted humanitarian protection, the government recently conceded that Syrians should be given refugee status so that they may enjoy the same rights of British students to education.

Williams, whose charity backed the proposal, told RT there are a "whole load of other people" who should also be granted access to university funding, such as Rohingya Muslims, who are fleeing ethnic cleansing in Myanmar, as well as former Afghan interpreters.
However, there are also those who come here to claim asylum and "often for no fault of their own" have to wait a long time before the Home Office makes a decision on their case.
In some instances, the Home Office considers a case too "complicated" to rule upon, so individuals are given humanitarian protection rather than refugee status.
Williams, however, said there is "absolutely no reason" why people under humanitarian protection should be kept from accessing student finance "immediately."
International students
Those who are under humanitarian protection in the UK and pursue higher education are classified as international students and are therefore forced to pay higher tuition fees compared to home students.
Current fees for international students are between £10,000 and £35,000 (US$13,000 to $45,000), according to the chosen degree and institution. By contrast, tuition fees for home students will amount to a maximum of £9,250 per year by autumn 2017.
Williams said classing those with leave to remain as international students is "crazy," as they do not have "a choice" but to come here in order to "save their lives."
She said the UK should instead be enabling such individuals to "start rebuilding their lives as quickly as possible."
Refugees are not people who have returned from abroad and have failed to "pay in" in the way British returnees are required, the STAR director said, but they are people "fleeing their lives," and who Britain has committed to protect.

"These are people fleeing for their lives and we've offered to help them rebuild their lives so we really need to start doing that immediately."
"Otherwise you are basically just warehousing people and letting all those skills and enthusiasm atrophy."
Education rebuilding lives
Williams said we should "celebrate" people who have fled persecution as "survivors" and "support them to improve their education and their chances, either to rebuild successful lives in the UK or to go back and rebuild their country when we hope the place is much calmer.
"If you just leave people in the corner and say 'we are not going to help you and we are not going to enable you to have your education' then […] I think we are not being fair to those people we've offered to give a new start to.
"But we are also missing an opportunity for ourselves," she said.
"We could always do more."
Williams claimed it is just a matter of time before the government grants student finance, as it did with the Syrians, to those under humanitarian protection.
"It's not to do with a sort of gradation of how terrible the war is over there.

"There is persecution, there is torture, sadly, in many states across the world and our government recognizes that, if you look at the Home Office guidance on who they give refugee status to."
Williams called on the Department for Education (DfE), the Home Office and the Department for International Development (DFID) to coordinate better.
"Teachers, doctors, academics, they were just sort of stuck driving cabs, and that's a waste to us and it's a waste to when we hope they'll be able to go home and rebuild their country," she said.
People want to return to their own country, "but they need to continue with their careers and their education to build themselves so that they can go back and really build a strong country," she added.
RT contacted the Department for Education and the Home Office for comment. Both declined to make a statement, claiming it may interfere with the June 8 general election.
You can share this story on social media: