Richard Branson bankrolling bid to oust Brexit-supporting Tory MPs
Published time: 27 Apr, 2017 11:02
Edited time: 28 Apr, 2017 13:15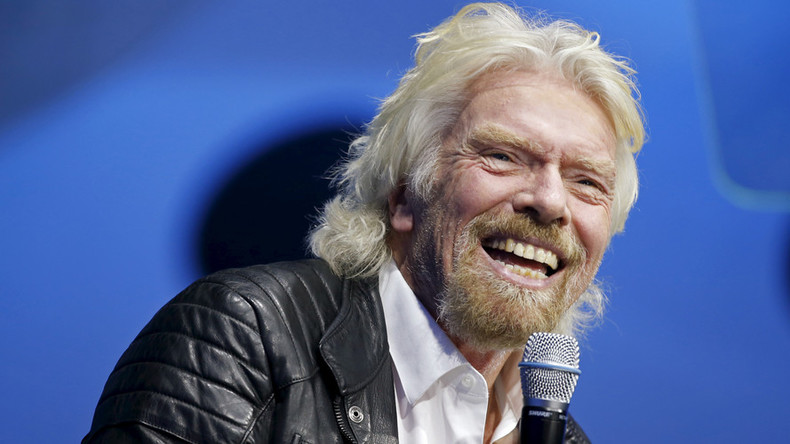 Entrepreneur Richard Branson is bankrolling a tactical voting campaign which aims to unseat Brexit-supporting Tory MPs in the June 8 general election, it has been revealed.
The Virgin boss, who left Britain four years ago to live overseas, has donated £25,000 (about US$32,000) to the Best for Britain campaign, launched yesterday by Gina Miller – the businesswoman behind a successful UK Supreme Court Brexit challenge.
Miller has promised "the biggest tactical voting effort in our history" and has vowed to ensure the government does not have a mandate to "destroy our rights and relationship with Europe." She says people need to vote tactically in the general election to avoid an "elected dictatorship."
Best for Britain has so far raised £300,000, which will be poured into up to 100 marginal seats to help elect candidates who do not rule out the country remaining in the EU or to MPs who could block a 'hard Brexit.'
Miller says the funds, donated by more than 10,000 people, will be allocated to local candidates who will be chosen using data that takes account of the referendum result in the constituency, the 2015 election result and how people feel about tactical voting. She confirmed it was looking at all parties, including the Tories.
As well as donating funds, Branson is providing office space and support staff to the campaign, the Daily Mail reports.
Branson has been vocal for his support for a second referendum, saying voters have "shot themselves in the foot" by opting for Leave. Following the referendum, he claimed the Brexit decision had led to the cancelation of a "very big deal" for his company, costing 3,000 jobs.
"Businesses will suffer and soon the British people will see the costs of the goods going up and job losses and they will start to realize the consequences of what they have done.
"The referendum was just an advisory referendum. Once people see the terms and the consequences of what's happening, things could change."
The launch of Best for Britain came two days after Open Britain unveiled its campaign to unseat prominent Brexit-supporting MPs such as Iain Duncan Smith, Theresa Villiers, and Kate Hoey.
Open Britain has compiled an "attack list" of 20 seats, held mostly by Conservative MPs, where constituents voted to stay in the EU but their representatives are Brexit supporters.