Majority of Brits now against Brexit, poll shows
Published time: 27 Apr, 2017 10:25
Edited time: 28 Apr, 2017 13:13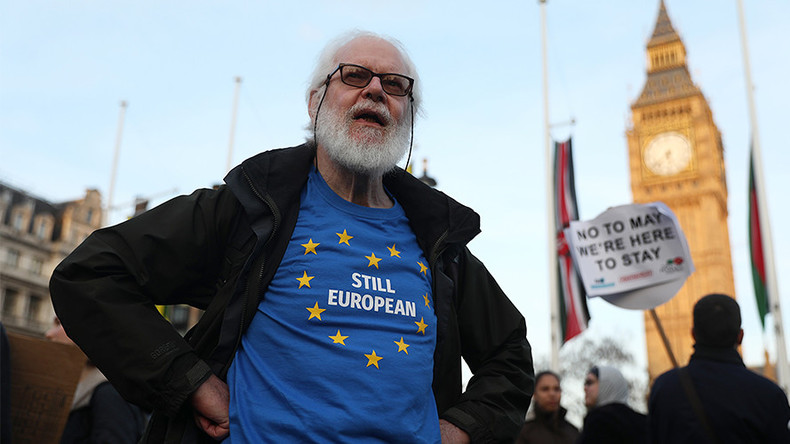 A majority of British voters now think it is wrong to leave the EU, a new poll show
The YouGov/Times poll, taken ten days after UK Prime Minister Theresa May called for a snap election, found a minority of voters (43 percent) now think Brexit is the best solution for Britain.
For the first time since the EU referendum last June, a majority (45 percent) now oppose the decision to withdraw from the bloc.
The findings come a matter of days after a separate poll revealed 44 percent of Britons were opposed to Brexit, while the percentage of those supporting it remained steady at 45 percent.
Since January 10, a total of 12 percent have said they "don't know" either way.
The latest figures mean support for Brexit is at a record low at a time when Theresa May's Conservatives are fighting for an electoral mandate to take Britain out of the EU.
The two-year process to withdraw officially kicked off last month when May triggered Article 50 of the Lisbon Treaty.
May claims she called the June 8 general election in order to crush dissent in Parliament and form a strong government to negotiate a good Brexit deal.
"We need a general election and we need one now because we have at this moment a one-off chance to get this done while the European Union agrees its negotiating position and before the detailed talks begin," May said during an unscheduled announcement outside Downing Street last week.
"Our opponents believe because the government's majority is so small that our resolve will weaken and that they can force us to change.
"They are wrong. They under-estimate our determination to get the job done and I am not prepared to let them endanger the security of millions of working people across the country, because what they are doing jeopardizes the work we must do to prepare for Brexit at home and it weakens the Government's negotiating position in Europe."
Meanwhile, anti-Brexit campaigner Gina Miller has now crowdfunded £300,000 ($385,000) for candidates who could run in the general election in oppositions to May's Brexit strategy.
"We need to prevent MPs and the people being forced into extreme Brexit that it is not in Britain's best interests," Miller wrote on her GoFundMe page.
"We will support candidates who campaign for a real final vote on Brexit, including rejecting any deal that leaves Britain worse off.
"We will use the money to back candidates who pledge to support a full and free vote on the Brexit deal. We will also work with organizations with the same goals.
"Only tactical voting at this election will ensure that parliament plays its full role."