UK welcome to stay in EU if it changes mind on Brexit – EU Parliament chief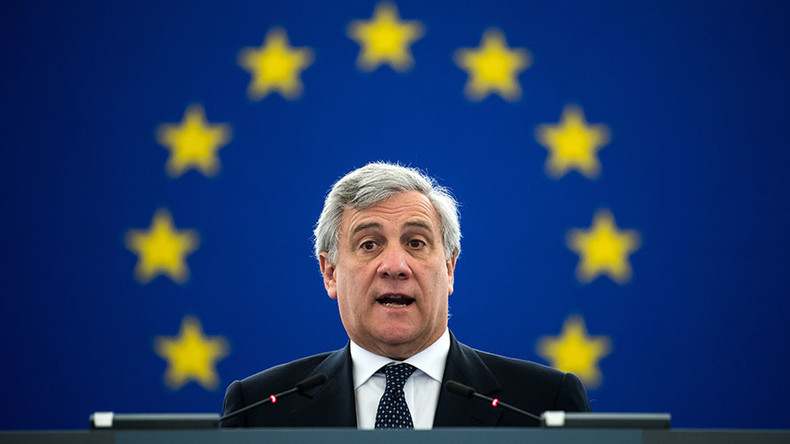 The UK would be welcome to stay in the EU if it decided to reverse Brexit, the president of the European Parliament has said, in stark contrast to Prime Minister Theresa May's statement that there is now "no turning back."
Antonio Tajani, speaking after his first meeting with the PM in Downing Street on Thursday, said that if Britons were to change their mind on Brexit, they could easily do so and the bloc would welcome them back with open arms.
"If the UK, after the election, wants to withdraw [Article 50], then the procedure is very clear," he said, according to the Guardian.
"If the UK wanted to stay, everybody would be in favor. I would be very happy."
Tajani said the two-year process of exiting the EU can be stopped at any time, after it was triggered last month when May invoked Article 50 of the Lisbon Treaty.
Legal experts are trying to get their heads around whether the UK could unilaterally reverse Brexit, but Tajani said that approval from EU member states would be enough for the UK to continue being a member.
Tajani's comments are at odds with May's remarks that the snap general election which she called for on Tuesday would not influence the outcome of last July's EU referendum, which saw a majority of Britons voting for independence from the bloc.
"Britain is leaving the European Union and there can be no turning back," said May.
Tajani also stressed that he would veto any negotiation that undermines the rights of both the 3 million EU citizens settled in the UK and the 1.2 million Britons living in the EU.
"We will vote against [it]," Tajani said, adding that he wanted a "clear framework" on their rights in the next month.
"We want the same rights as today. For us, the agreement is [to have the same rights] as today [and] yesterday, tomorrow," he said.
"For us, it is a priority and it is a red line."

Tajani, an Italian who has recently replaced Martin Schulz as president of the EU Parliament, however, said that it appeared in the meeting that May would guarantee the rights of EU citizens in the UK as she wanted the same treatment for Brits abroad.
"The message is a positive message. We want to strengthen the citizens' rights – European citizens living in the UK and UK citizens living in the European Union.
"This is the most important message – we want to work together.
"Mrs May underlined this position. It is our position. Here we were both in favor of our citizens.
May had faced a backlash from different parties over her failure to set out an immediate plan guaranteeing the rights of EU citizens in the UK. She said she could not pledge the rights would be maintained if the EU failed to do the same for Brits living in the bloc.