Tube announcements share messages of comfort to grieving Londoners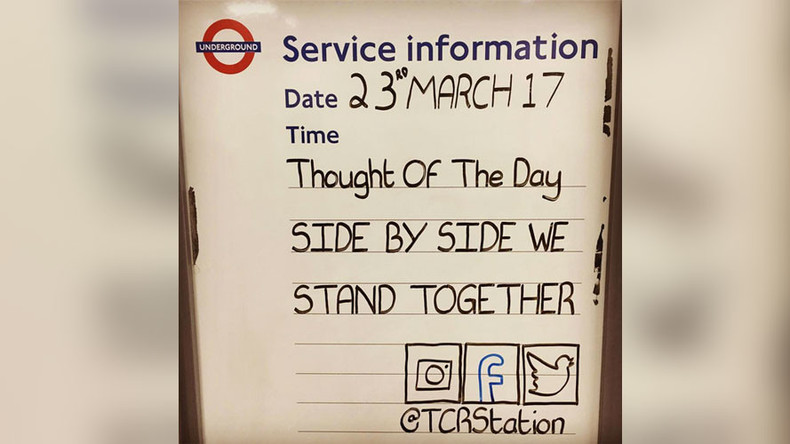 Whiteboard public announcements are a longstanding tradition on the London Underground, providing amusement as well as information for commuting Londoners.
The much-loved 'Thought of the Day' was far more somber this Thursday, however, with messages of support and comfort spread across the Underground network.
"The flower that blooms in adversity is the rarest and most beautiful of all," read the whiteboard at Tower Hill, quoting from the Disney movie 'Mulan.'
Canary Wharf decided to quote another much-loved cartoon, Winnie the Pooh, with the words: "How do you spell love? You don't spell it, you feel it."
Tooting station chose the old adage: "United we stand, divided we fall."
The messages followed a mock note that went viral on social media after being shared by Conservative MP George Freeman on Twitter.
"All terrorists are politely reminded that THIS IS LONDON and whatever you do to us, we will drink tea, and jolly well carry on, thank you," read the board, which despite being fake was labeled as proof of "everything that's great about London."
The hashtag #WeAreNotAfraid also trended on the evening of the attack, with Londoners insisting on defying terrorism through messages of resilience and solidarity.
You can share this story on social media: