Tampons & nappies to be turned into clean energy
Published time: 20 Mar, 2017 16:21
Edited time: 21 Mar, 2017 13:42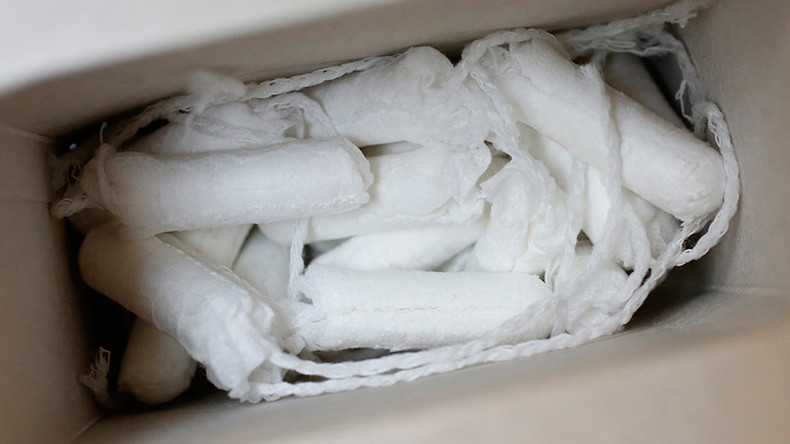 A major waste company is launching a multi-million pound initiative that will see tampons, hygienic pads, and nappies recycled into clean energy.
PHS group, which operates at 300,000 locations in the UK and Ireland, will transform "absorbent hygiene products" into burnable fuel bundles that will then be delivered to the alternative energy market.
Refused Derived Fuel (RDF) is usually burned in renewable energy plants to produce electricity and hot water.
Disposing of used nappies, tampons and hygienic pads is currently being handled through incineration, but this strategy has proved inconvenient for businesses, as the dampness of the materials makes the process too expensive to carry out.
Another disposal method is to throw the materials into a landfill, but absorbent hygiene products are thought to take up to 500 years to decompose.
Justin Tydeman, CEO of PHS group, noted: "Hygiene products are an essential part of many of our everyday lives, but disposing of them has always been an issue.
"We have spent almost a decade refining the LifeCycle process and we now have a viable option for diverting hygiene waste products away from landfill," he said, according to the Express and Star.
"For the first time, we can all enjoy the benefits that the products bring and know that they are disposed of in an environmentally responsible way," he stressed.
The first stage of the process, known as LifeCycle, entails scavenging through waste and discarding any unwanted materials.
The products are then torn into pieces and squeezed, with the waste liquid drained out as sewerage. The remnants are then packed into bales that are used to create fuel for power stations.
PHS, which processes 45,000 tons of absorbent hygiene products, first tested the process last year at its plant in the West Midlands, but it was not until Monday that the company announced that the operation would be implemented an industrial scale.
PHS will begin using the method to process 15 percent of its waste, but hopes to convert all of its waste by 2017.
"By converting hygiene waste products into RDF instead of sending them to landfill, we can help the sector to achieve environmental targets and reduce waste management costs," Tydeman told the Guardian.
"Our goal is zero to landfill for our customers' hygiene waste products by the end of 2017.
"Whether or not it turns out to be a major source of energy in itself, the key thing is we find a good way to handle what is a complex and growing waste stream.
"We don't want this stuff just going into the ground," he said.
The impact of the new process is being assessed by the University of Birmingham, which will determine whether it is more environment-friendly than incineration or landfill waste.
The innovative solution also comes as an ageing population is anticipated to soon be using more incontinence products.
"The great thing about life today is people are living longer, but what comes with that is often incontinence issues.
"We want this to be a growing issue, because we want people to live longer," Tydeman said.