Three European countries want to create artificial power island in North Sea
Published time: 9 Mar, 2017 15:02
Edited time: 10 Mar, 2017 12:01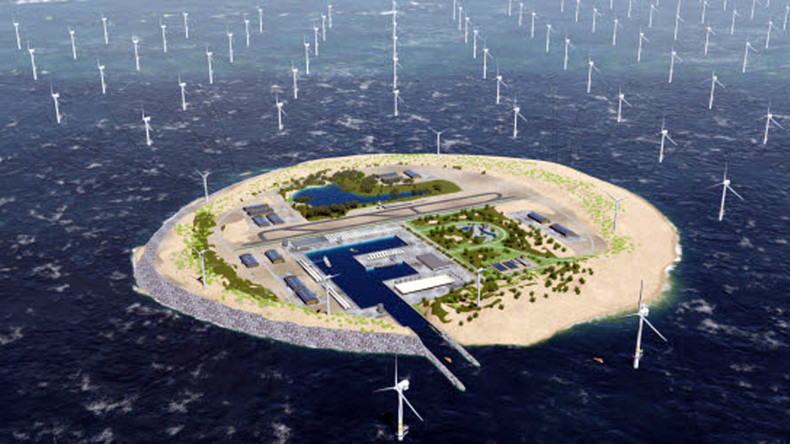 Denmark, Germany and the Netherlands have revealed plans to jointly build a giant artificial island in the North Sea with wind farms providing power for 80 million people.
The plan envisages the island on the large Dogger Bank sandbank roughly at the center of the North Sea between Denmark, Germany, Britain, Norway, and the Netherlands, with connections to each. It will have its own runway and harbor.
The island would be around six square kilometers in size and connected to wind farms in countries around the sea through a power hub able to distribute energy to consumers across the region.
Specialists say that area of the North Sea gets a lot of wind and makes the spot an ideal location for a green power hub.
The ambitious project is aimed at cutting costs for customers, according to a statement from Energinet.dk, the Danish national transmission system operator for electricity and natural gas.
"Maybe it sounds a bit crazy and science fiction-like, but an island on Dogger Bank could make the wind power of the future a lot cheaper and more effective," said Torben Glar Nielsen, the company's technical director in a news release.
Energinet.dk said it will generate 70-100 GW of power through windmills connected to the island, that is enough to provide 80 million Europeans with power.
The project is supported by Denmark's Energinet.dk and TenneT, the national electricity transmission system operator in the Netherlands.
"This project can greatly contribute to a sustainable electricity supply in Northwest Europe. I am happy that we are going to take this step with our Danish colleagues and I look forward to the participation of other transmission system operators and possibly other partners," said TenneT CEO Mel Kroon.
READ MORE: BRICS bank approves first loans, $811mn investment in renewable energy projects
The firms are due to seal the deal at the end of the month and begin a feasibility study. Discussions with other possible partners are still ongoing.