'Menstrual equity': Tax-free tampons approved by Chicago City Council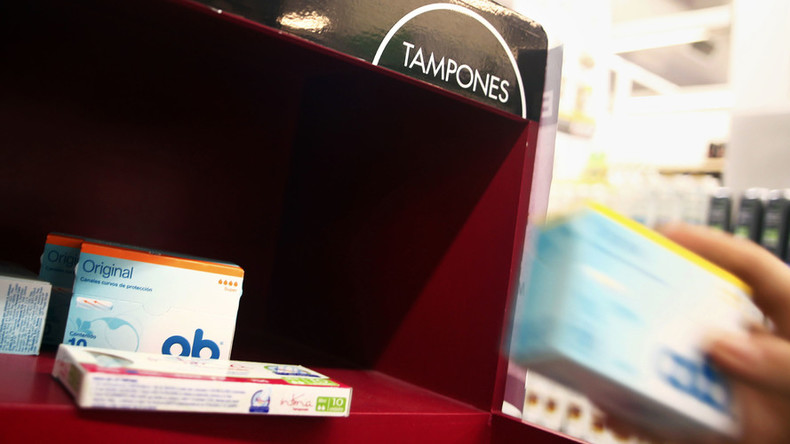 The Chicago City Council has voted unanimously in favor of rescinding its sales tax on tampons, redefining "feminine products" as "medical necessities." Other city and states are considering similar legislation.
In a 46-0 vote on Wednesday, the Chicago alderman removed a portion of the city's sales tax covering tampons.
Currently, "feminine products" such as tampons and sanitary napkins are taxed at 10.25 percent in Chicago, the highest rate in the country. The city's share, deemed a "luxury tax," applies to products and or services deemed unnecessary or nonessential. The vote removed that city luxury tax of 1.25 percent, which goes into effect at the end of this year. Supporters say the measure corrects gender bias.
Tampons and sanitary napkins, now characterized as medical necessities, will be tax exempt. The vote followed a recommendation made without opposition by the City Council's finance committee last week.
"These feminine products are truly necessities of life," Alderman Edward Burke, a lead sponsor of the measure and chairman of the Finance Committee, told DNAChicago.
Jennifer Weiss-Wolf, spokeswoman for the Brennan Center for Justice, told DNAChicago the city's action represented "menstrual equity."
"You are actually at the vanguard and the forefront of what's become a national and international movement," said Weiss-Wolf, citing similar exemptions in Minnesota, Pennsylvania, New Jersey, Maryland and Massachusetts.
The windy city is also interested in making this tampon tax termination consistent throughout the state. Illinois lawmakers recently advanced a measure to exempt feminine hygiene and incontinence products from the state sales tax.
Five women in New York recently filed a lawsuit arguing that the tax is unconstitutional, accusing the state of double standards and gender discrimination. They are seeking to end the "unlawful" tax and force refunds to an estimated 5 million women who, the lawsuit again estimates, spend $70 on menstrual products annually. The lawsuit says New York collects about $14 million each year in sales tax on such items.
"A tax on tampons and sanitary pads is a tax on women. The Tampon Tax is irrational. It is discrimination. It is wrong," the five plaintiffs ‒ Margo Seibert, Jennifer Moore, Catherine O'Neil, Natalie Brasington and Taja-Nia Henderson ‒ wrote in the class-action complaint, filed in the state Supreme Court in Manhattan.
The women claimed that New York collects about $14 million each year in sales tax on menstrual products from the ‒ in their estimates ‒ the 5 million women who live in the Big Apple, each of whom spends an average of $70 on such items annually.
Currently 40 states in the US impose a tax on feminine hygiene products. While the "tampon tax" has been eliminated in Pennsylvania and Minnesota, last month legislators voted to uphold it in Utah.