'There will be another Scottish independence referendum' – Sturgeon tells SNP conference (VIDEO)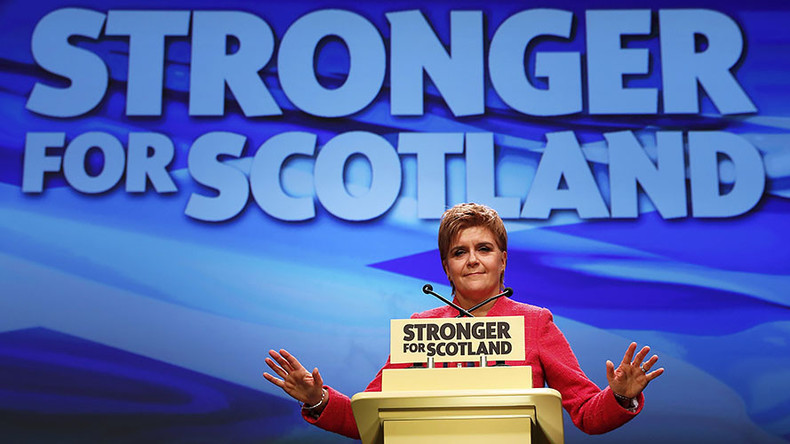 Scotland's first minister, Nicola Sturgeon, has told the Scottish National Party (SNP) Conference that "there will be an independence referendum." Her assertion was met with widespread applause at the Aberdeen event.
When Scotland held a referendum on independence back in September 2014, the 'No' side won with just over 55 percent of votes.
Sturgeon called for a second independence referendum during her closing address at her party's spring conference at the Aberdeen Exhibition and Conference Center (AECC) on Saturday.
On Friday, UK Prime Minister Theresa May blocked a second referendum on Scottish independence, saying "now is not the time" for another vote.
May argued that a second referendum is inappropriate at this time because of the UK's precarious position as it prepares to leave the EU, adding that the Scottish people will need a more complete picture before making a decision on the future.
READ MORE: 'Now is not the time': Theresa May blocks 2nd Scottish independence referendum
"To be talking about an independence referendum would, I think, make it more difficult for us to be able to get the right deal for Scotland and the right deal for the UK," May told ITV.
"And, more than that, I think it would not be fair to the people of Scotland because they'd be asked to take a crucial decision without the necessary information, without knowing what the future partnership will be or what the alternative of an independent Scotland would look like," she added.
Sturgeon said on Saturday that "Scotland's future must be Scotland's choice," adding that for Downing Street to "stand in the way of a referendum would deny us that choice." She indicated that the referendum would come after the "terms of Brexit are clear, but while there is still an opportunity to change course."
Throughout her passionate speech, Sturgeon lambasted May for "putting the interests of the right wing of your own party ahead of the interests of the people of our country" and for her "refusal to budge an inch" during talks between the two over Scotland's future.
READ MORE: Could Scotland defy Theresa May and hold its own unofficial independence vote?
Sturgeon said May's request that Scotland hold-off on a second referendum until Britain's future is more stable would be "hoping for the best, but knowing that the worst is far more likely." Instead, she said, "I could make a plan now to put the Scottish people in charge of our own future."
If May chooses to "stand in the way" of the referendum, it would mean Scotland's future would not be determined by its own people, but "by an increasingly right wing, Brexit obsessed Tory government," Sturgeon said.
In further comments about Brexit and an independent Scotland, Sturgeon said that the SNP would guarantee the right of EU citizens to stay in Scotland.
However, Sturgeon will need May's support to secure a second referendum. If the Scottish parliament approves the poll, they would then have to request a Section 30 order under the Scotland Act 1998 to transfer power from Westminster to the Scottish Parliament so that it can hold the referendum.
The Houses of Commons and Lords could grant the measure, but the transfer could be delayed until after Brexit. Only after Westminster agrees to a Section 30, can negotiations begin between the two governments to determine dates, terms and the wording of any referendum questions.
Meanwhile, an online petition calling for the UK government to agree to a second referendum has garnered over 30,000 signatures — enough to ensure a response from Westminster. If the petition gathers 100,000 names, then it must be considered for a parliamentary debate.