'Now is not the time': Theresa May blocks 2nd Scottish independence referendum
Published time: 16 Mar, 2017 14:57
Edited time: 17 Mar, 2017 12:18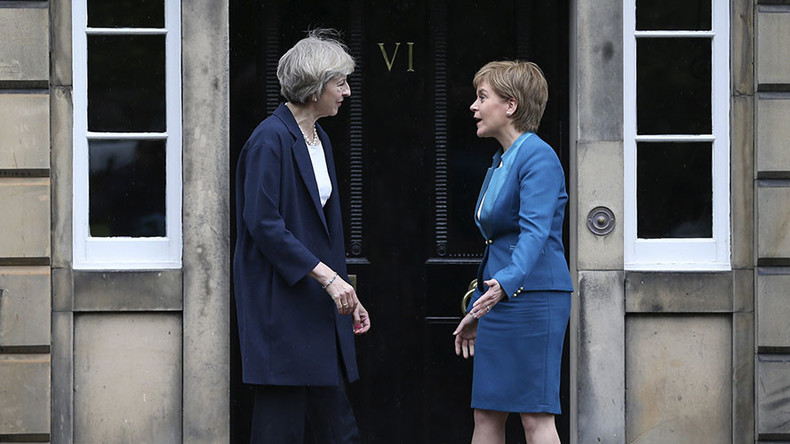 UK Prime Minister Theresa May has blocked a second Scottish independence referendum, saying "now is not the time" for another vote.
A repeat of the 2014 referendum is not appropriate because the country is already going through a huge change in terms of Brexit, and Scottish people need a fuller picture before making any decision on the future, said May.
The move will create an intense political standoff with Scottish National Party (SNP) leader Nicola Sturgeon, who will next week ask Scottish MSPs to approve her plans for a second referendum.
"My message is very clear. Now is not the time," May said, speaking to ITV.
"When the SNP government say that it's the time to start talking about a second independence referendum, I say that just at this point, all our energies should be focused on our negotiations with the European Union and our future relationship," she added.
"And to be talking about an independence referendum would, I think, make it more difficult for us to be able to get the right deal for Scotland and the right deal for the UK.
"And, more than that, I think it would not be fair to the people of Scotland because they'd be asked to take a crucial decision without the necessary information, without knowing what the future partnership will be or what the alternative of an independent Scotland would look like."
May's words do not completely rule out allowing a second independence referendum at some point in the future.
Sturgeon responded to May on Twitter, arguing it would be "undemocratic" of May to block the right of Scotland to choose its own future.
Relations between the two leaders were already strained. Sturgeon took a swipe at May earlier in the week, saying she was voted in on a clear manifesto commitment to Scottish independence, while May, who stepped into Downing Street when David Cameron resigned, "is not yet elected by anyone."
Announcing her intention to trigger the poll on Monday, Sturgeon said the Westminster government had "not moved even [one] inch in pursuit of compromise in agreement" with Holyrood over Brexit.
After the news was announced on Thursday, SNP MP Alex Salmond interrupted a House of Commons debate on energy to say the PM is "dictating the timing" of a new referendum and should address Parliament.
He accused her of breathtaking "arrogance" and of treating Scotland like a "county rather than the country" it is.