'Botox away': High-powered professionals turn to facial injections to hide emotions at work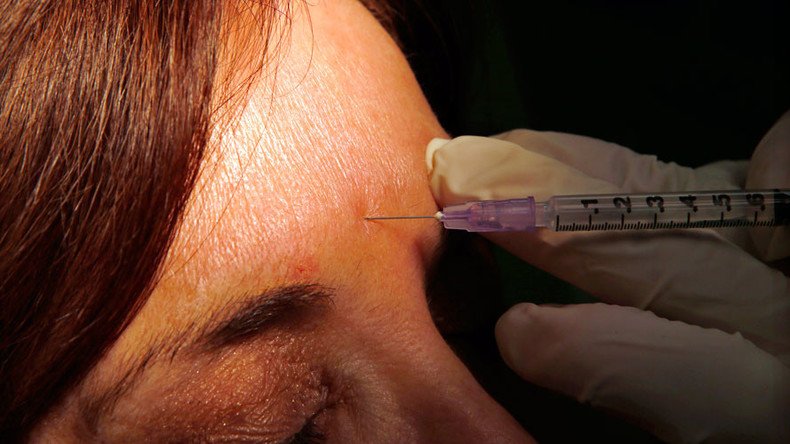 Professionals in high-powered jobs are turning to Botox to appear emotionless at work, according to a cosmetic doctor.
London-based Dr Tijion Esho claims professionals are seeking non-surgical treatment to ensure they appear calm and slick in their work lives.
"Over time I've noticed a new wave of patients who are pursuing Botox to give them reduced or minimal expression," Dr Esho told the Independent.
"I've seen a particular trend in professions such as law and banking, where patients in these careers feel that they will be taken more seriously."
Lawyers, bankers, and psychiatrists are among those turning to Botox, or so-called 'Protox.'
Dr Esho claims Protox is especially common for people who have a "hyper-expressive" face and want to appear still and at ease instead.
In one case, a New York-based plastic surgeon reportedly described how her friend, who is a psychiatrist, got Botox as she struggled to appear non-judgmental while her clients spoke, a key requirement of the profession.
"My friend, who is a psychiatrist, said she spends so much time while patients are talking to her trying to not contract [her facial] muscles, so as to not appear judgmental, that she barely hears what they're saying," Dara Liotta, MD told Refinery 29.
"I told her to just Botox it away, so she comes in now to get rid of those lines [between the brows]."
Other females apparently resort to the non-surgical treatment in a bid to appear strong and masculine, and counter the stereotype of women being too emotional.
Some people, however, use Botox to stop sweating, a physical reaction which could indicate nervousness.
"I have some people come in who are in the public eye and have the sweaty brow or sweaty forehead and they want it just for that reason," dermatologist Roy G. Geronemus, MD was reported as saying in the Independent.
"They're embarrassed because it shows that they're nervous."
Although the number of plastic surgery procedures in the UK dropped by 40 percent following the Brexit referendum, non-surgical interventions such as facial injections have become increasingly popular.
According to Rajiv Grover, former president of the British Association of Aesthetic Plastic Surgeons, the reason behind the drop in cosmetic surgery is that people are more careful with their money in light of the uncertainty caused by Brexit.
"In a climate of global fragility, the public are less likely to spend on significant alterations and become more fiscally conservative."
But Grover warned people to be cautious about non-surgical treatments.
"It's worth, however, remembering that the non-surgical sector is rife with lax regulation, maverick behavior and unethical promotional gimmicks, so the public must remain vigilant," he said.
You can share this story on social media: