'Human Ken doll' piles on pounds to use back & hip fat for 'peachy' new bum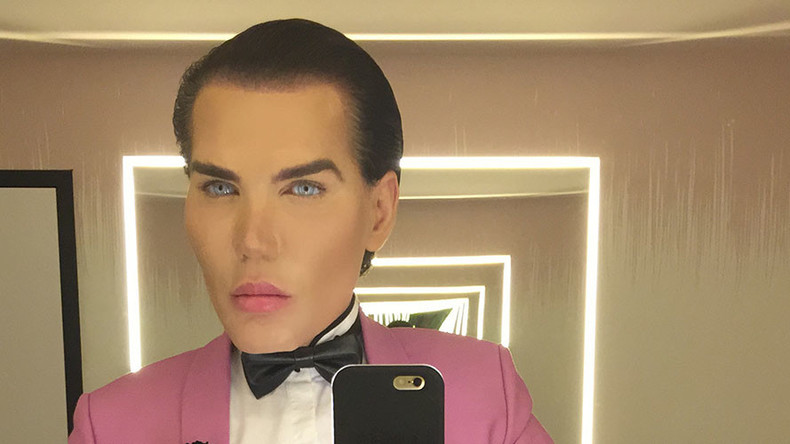 A man who has spent thousands of pounds on plastic surgery in his quest for the perfect body has spent the last few months piling on the pounds so that he could use the fat to plump up his buttocks.
Rodrigo Alves has confirmed that he purposely consumed 3,000 calories a day and gained two stone so that doctors could extract the fat through liposuction and inject it into his bum.
The 33-year-old former air steward swore never to have plastic surgery again after spending £368,000 on almost 50 operations, including six-pack implants, botox, and a botched nose-job.
However, in a last ditch effort to achieve a better bottom, Alves decided to gorge on chocolate and cakes so that he could have more than 3.5 pints of fat sucked from his back, waist, and thighs, which could then be 'reused' on his backside to achieve a more "contoured" look.
In commenting on the procedure and the fat on his waist, the man, also known as the 'human Ken doll' said: "I don't exercise at all whatsoever so I've got to have some clinical help to reduce the fat in these areas."
"I want to look nice in my swimming trunks," he added.
READ MORE: 'Designer vagina' surgeons could face female genital mutilation charges

The Brazilian-born minor celebrity is said to be very happy with the surgery, describing his new butt as "very peachy," while saying it feels and looks great.
"I managed to put on two stones, and for the butt argumentation the doctors used two litres of fat and the procedure was performed in Marbella where I sometimes live," he told the British press.
In fact, it seems his nip and tuck addiction is now back, as he confirmed that he has planned a series of new procedures for the coming months.
"I've decided to make the most of the treatments that do not involve surgery, and I would only have another plastic surgery again if it was for emergency medical reasons which was the recent case of my nose," he explained.
"But I've not stopped having aesthetic treatments; there are so many non-invasive treatments on the market that can replace surgery. I'm not giving up on trying to stop the natural ageing process."
After a flesh-eating bug nearly destroyed his whole face last April, Alves was forced to spend £40,000 on emergency treatment in Spain and reconstruct his nose. He has now insured his body for £1 million in case of further setbacks.
You can share this story on social media: