Robotic rectum to further prostate cancer research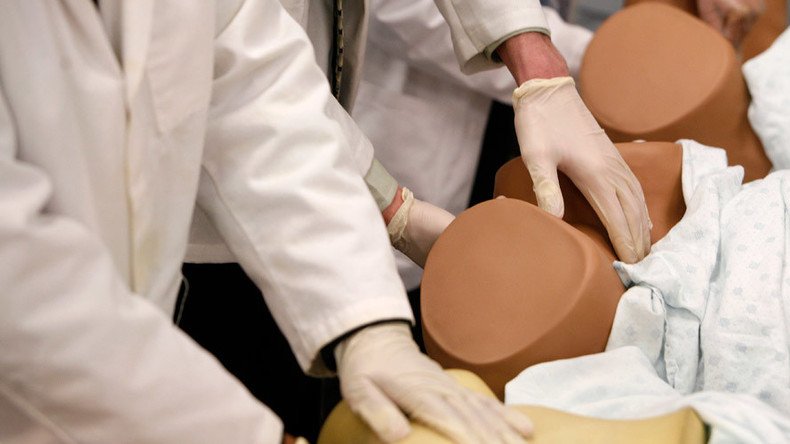 Scientists have created a robotic rectum and paired it with 3D imaging software to give medical students a life-like model which provides the experience of performing a real rectal exam.
The system, designed by a research team from Imperial College London is fairly simple. Just like in life, a doctor inserts a finger inside the robot. Recognizing the penetration, the robot mimics the sensation of the living flesh and tissue of the human rectum.
The "trainer rectum" then proceeds to display images of its interior, including the prostate, on 3D glasses worn by doctors as well as on a computer screen for instructors to monitor and advise.
Unlike the case with a standard plastic rectum, the new design allows the robot to be adapted and programmed for different health scenarios.
"The size and shape of the rectum and prostate can vary greatly from person to person, and this technology enables medics to practice their skills in many different virtual patients," said Dr. Fernando Bello of the Department of Surgery and Cancer at Imperial College London.
Rectal exams are vital to diagnosing medical conditions such as prostate cancer. The exam involves inserting an index finger into the patient's anus to feel the walnut-size prostate gland that sits below the bladder.
According to the UK team of scientists, cancerous prostates tend to feel hard and knobbly, but learning exactly what a malignant tumor feels like can be difficult, which is where the new exam system comes in handy.
"Internal examinations are really challenging to learn – and to teach. Because the examinations occur in the body, the trainer cannot see what the trainee is doing, and vice versa," Dr. Bello said. "But the results of these examinations can have major implications for patients – they are very important for early diagnosis of various conditions such as prostate cancer."
The team is continuing to perfect the device, by collecting data from real prostate examinations in patients that prostate specialists and cancer surgeons are currently trying out.
"There is very little research into the exact pressure and trajectory a doctor needs to use for a successful prostate exam. Therefore we are asking doctors to wear a small pressure sensor on their fingertip, underneath their surgical glove, when they are examining real patients," explained Dr. Bello.
The training device is being presented this week at the international Eurohaptics conference at Imperial College. The scientific team is now working toward building an affordable prototype for medical schools that will cost over £10,000, or around $13,000 in the US.
You can share this story on social media: