Stephen Hawking to Labour leader Corbyn: Step down, you're a disaster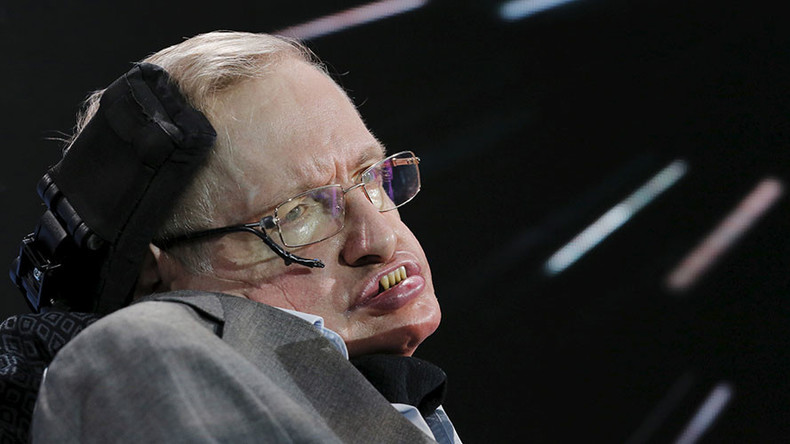 Renowned theoretical physicist and Labour supporter Stephen Hawking has called on the party's leader Jeremy Corbyn to stand down, branding the socialist a "disaster."
The professor had previously been supportive of the Labour leader, but has grown disillusioned with Corbyn's leadership.
"I regard Corbyn as a disaster," Hawking said in an interview with the Times.
"His heart is in the right place and many of his policies are sound but he has allowed himself to be portrayed as a left-wing extremist.
"I think he should step down for the sake of the party."
Hawking: Brexit is bad
Media: We don't listen to intellectuals anymore
Hawking: Corbyn should go
Media: Listen to this man he's a genius.

— Boothby Graffoe (@boobygraffoe) March 7, 2017
The iconic scientist has been increasingly vocal about his politics over the last few years, standing against National Health Service (NHS) privatization, backing his local Labour candidate and arguing against Brexit.
The staunch 'Remainer' was mocked by the British tabloids over his Brexit position, particularly after the professor argued that Britain's European Union withdrawal was "too complex" even for him.
Labour unity
Hawking's comments on the Labour leadership came after Shadow Chancellor John McDonnell made new attempts at uniting the Parliamentary Labour Party (PLP). The Hayes and Harlington MP was confronted by some of his backbench colleagues after claiming a "soft coup" was in the works to bring down Corbyn.
"His element of contrition was about not just [his 'soft coup' comments], but over the past, from the summer when he chaired Jeremy's campaign, and also since then," a spokesman for the shadow chancellor said.
"It was about putting most importantly and front and center that the Labour Party is united on [the budget].
"The biggest fear the Tories have is a united Labour Party, because they know that a united Labour Party will be one that would elect Jeremy Corbyn, who will be the most transformative Labour prime minister since Clement Attlee and they fear that deeply," he added.
Labour has also confirmed that a charm offensive is now in place to woo long-time Corbyn critics such as former PM Tony Blair and Labour right-winger Lord Mandelson.
"We have begun our tea offensive," the spokesman said. "We already have begun reaching out to people and bringing people together."
Blair recently blamed Corbyn for "facilitating" Brexit, saying EU withdrawal was only possible because of "the absence of an opposition which looks capable on the polls of beating the government."
He added that Corbyn had brought on "the debilitation of the Labour Party."
You can share this story on social media: