British suicide bomber 'wasn't being monitored' because Theresa May 'downgraded surveillance'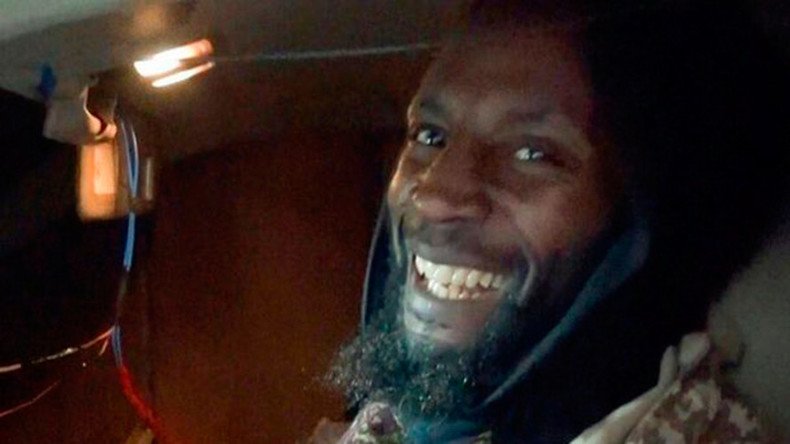 While serving as home secretary, Prime Minister Theresa May downgraded the surveillance of an extremist who fled Britain to become an Islamic State (IS, formerly ISIS/ISIL) fighter and suicide bomber after his release from Guantanamo Bay, it has been claimed.
The Prime Minister's official spokesperson has refused to discuss whether the monitoring of Jamal al-Harith ceased in 2014, when May had been running the Home Office for four years.
IS claims the 50-year-old suicide bomber, born Ronald Fiddler in Manchester, also known as Abu-Zakariya al-Britani, blew himself up in an explosives-laden vehicle in a village south of Mosul last week. The terror group says there were many casualties, although this has not been officially confirmed.
Two ex-Labour home secretaries, David Blunkett and Jack Straw, have suggested government surveillance of al-Harith was stopped before he traveled to Syria to join IS.
Lord Blunkett said: "I am not aware as to the length of time such monitoring continued after I left the Home Office at the end of 2004. It is clear however that in 2010 under the new Coalition government ... continuing contact and awareness of these individuals must have been present.
"What happened between then and 2014 is of course a matter of speculation that can only be answered by the present government."
Straw followed up the attack, telling the Independent: "One of the things that she [May] did do [as Home Secretary] was weaken the ability of government to keep terror suspects under effective surveillance."
While security officials confirmed al-Harith and other Guantanamo detainees were monitored after their release, they said the scale of it depended on the extent of the threat they posed to the public.
"There is a finite amount of resources and a valued judgement has to be made on how these resources are allocated," a senior source told the Independent.
Richard Barrett, the former head of counter-terrorism at MI6, told the newspaper: "This guy came out of Guantanamo Bay ten years before he left for Syria. That would be a hell of a long time to keep someone under close surveillance, almost impossible, and against his civil liberties.
"When he came back from Guantanamo Bay the assessment was made by the British and Australian services that he posed no threat and for the ten years that he was in the UK and maybe even for a period after that, he did not pose any direct threat to the British public in the way that we would understand it."
On Wednesday, it was revealed Tony Blair's government lobbied for the release of al-Harith despite never regarding him as innocent.
Straw told the BBC: "Neither Mr Blair or I ever said that [al-Harith] was innocent. Whenever you're making decisions about the release of prisoners, you have to make a judgment and sometimes those judgments are not borne out by events."
Blair has accused the media of "utter hypocrisy" over criticism of the release, "which followed a parliamentary and massive media campaign led by the Daily Mail … and strongly supported by the then Conservative opposition."
'Al-Harith did not receive £1m from UK government' - family
The disclosure that al-Harith had received a compensation payment of £1 million from the UK government after ministers lobbied to secure his release from Guantanamo Bay in 2004 has sparked a political blame game.
David Cameron's government agreed a total package of £10-20 million in damages for British citizens and long-term residents who were held in Guantanamo in an out-of-court settlement in 2010.
Blair took the unusual step on Wednesday of issuing a statement denying his administration had paid compensation to al-Harith.
"He was not paid compensation by my government. The compensation was agreed in 2010 by the Conservative government," Blair said.
A Number 10 spokesperson declined to comment on compensation payments on the grounds that it was an "intelligence matter." The spokesperson also refused to say why May as Home Secretary allowed al-Harith to travel to Syria.
The Tory government is now facing pressure to prove that £10-£20 million paid to terror suspects being held at Guantanamo Bay did not end up in the hands of IS, after it emerged that four of the 17 British detainees thought to have been given compensation have been accused of links to Islamic groups or individuals in Syria.
Writing in Thursday's Daily Telegraph, Lord Carlile QC, the former terror law watchdog, said: "I hope that what he [al-Harith] did with the money was the subject of careful monitoring, something on which we are entitled to some reassurance from the authorities."
Lord Carlile, who said the payment should never have been made, added: "I am concerned about the monitoring of money received by people who have been identified as terrorists. I would hope that the money was followed with care to avoid large sums being paid over to terrorist groups."
In a statement to the BBC al-Harith's family denied he received as much as £1 million in compensation, claiming the figure was "a group settlement including costs for four innocent people including Jamal."
They blamed his treatment at Guantanamo Bay, where he was held by the US, for his subsequent involvement with the terror group.
The statement said: "The Jamal they knew up until 2001 when he was taken to Guantanamo Bay would not have become involved with a despicable organisation such as so-called ISIS. He was a peaceful and gentle person. Whatever he may or may not have done since then they believe from their own experience he was utterly changed by the physical and mental cruelty and the inhuman treatment he endured for two years at Guantanamo."
Meanwhile, the lawyer who helped British detainees at Guantanamo Bay win a multi-million pound compensation claim against the government, Sapna Malik, could be struck off by a professional tribunal.
She faces a seven-week misconduct hearing, scheduled to start in April, over allegations of misconduct for the now discredited claims brought against the British army for its behavior during the Iraq war.
Al-Harith 'mentally tortured' by Taliban
Catherine Philp, correspondent for the Times, wrote on Thursday that al-Harith was barely able to speak when she met him in a Kandahar jail shortly before he was taken to Guantanamo Bay in 2002.
"He doesn't speak. He was mentally tortured by the Taliban," she wrote.
The father-of-five flew to Pakistan after the September 11 attacks and spent time in a Taliban jail, alongside political prisoners and foreigners, before American forces moved in and took him to Guantanamo Bay.
Interrogators found he provided useful information about the Taliban's methods, and believed he had spent time with Osama Bin Laden in Sudan. But he was released from the notorious prison camp in 2004, after two years, repatriated to the UK by private jet and released without charge.
Speaking to the BBC soon after his return to the UK he described being frightened to leave Guantanamo because he was so used to life there, and his hatred for the Americans who held him there.
"When they were taking us out I could see the British plane waiting for us - they had to walk us over the 300 metres - and we got put in front to the British Bobby and the American soldier was taking off my chains I wanted to spit in his face but you have to hold yourself inside."
He also spoke of his determination to sue for compensation, and revealed the Americans were only convinced he had a clean criminal record because he worked for MI5, which he laughed about on live TV.
You can share this story on social media: