Child refugees still arrive in Calais & Dunkirk as UK scraps resettlement of 3,000 (VIDEO EXCLUSIVE)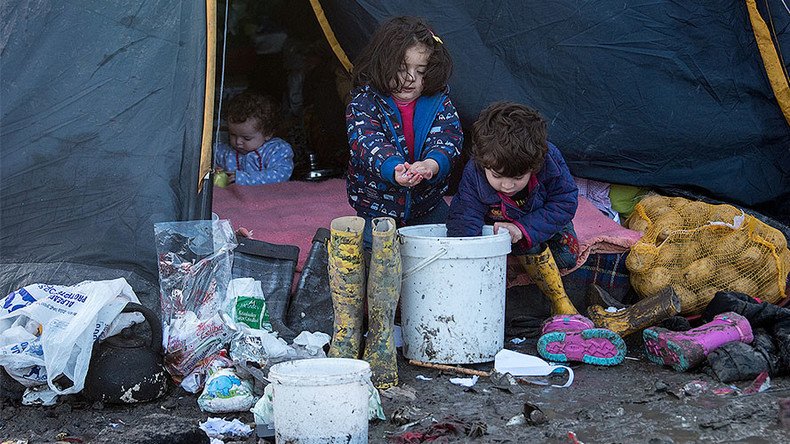 Five months after the Calais 'Jungle' was bulldozed by French authorities, migrants and refugees are still arriving, hoping to reach the UK. In response, Britain has scrapped the Dubs Amendment, allowing for the resettlement of 3,000 unaccompanied minors.
Up to 10,000 camp residents were dispersed across France after the Jungle was cleared in October 2016. Many of those who were not granted asylum, deported or sent to overburdened reception centers have now resorted to sleeping rough on the streets of Paris.
With conflicts and political instability still blighting the Middle East and Africa, and the failure of British authorities to offer asylum seekers safe and legal passage, the pull factors bringing migrants and refugees to the French coast have not changed.
Those scattered around France are now returning to Britain's doorstep, where they are joined each day by fresh arrivals, many of whom, after months of traveling, are unaware that the Jungle has vanished.
"People thought the conditions in the Jungle were bad, but this is worse," Care4Calais founder Clare Moseley told RT. "It's just that in the Jungle you could see them and now you can't."
Care4Calais is just one of the charities still operating in the area, distributing food and clothing to those hiding from police in and around the port town. Many are under the age of 18 and traveling alone. Some have relatives already in the UK.
"In Calais at the moment the minors we are coming across I would say are generally aged 13 to 16 years old, mostly boys. In Dunkirk there are much younger children, there's more families," said Moseley.
RT met dozens of youngsters, most of them from Eritrea, who are hiding in patches of woodland close to the industrial wasteland where the Calais Jungle once sprawled. Braving wet weather and often freezing temperatures, the boys bide their time, trying to board trucks bound for the UK.
"I guess anybody who has worked with homeless people in the UK maybe would be more accustomed to seeing this, to seeing people sleeping with no shelter at all in the middle of winter when it's this cold, to seeing people who have not had any opportunity to wash or change their clothes, who have skin disease, gum disease, things like that, that go untreated, which is just horrible," said Moseley.
Although lacking the basic infrastructure offered by charities in the Jungle, and now with fewer volunteers on hand to distribute dwindling stocks of aid, migrants and refugees remain determined to make the journey, risking detention and deportation if caught by police.
With a general election looming in France, keeping these children out of sight almost seems like a deliberate political move.
"Unfortunately, shockingly for me, children don't give up hope easily. It's in their hearts and they don't give up on it," said Moseley.
"So when they're told 'no', instead of just giving up they just think, 'Right, I'm going anyway, I'm going to come, I'm going to keep trying.' Children don't give up hope."
British Home Secretary Amber Rudd has defended the government's decision to scrap the Dubs Amendment – named after its author Lord Alfred Dubs, who was himself rescued as a child from Nazi Europe.
She says resettling 3,000 lone child refugees would only encourage more to risk the perilous journey across Europe. Critics say refugees will continue to arrive, regardless, until the fundamental causes of the crisis are resolved.
'French people attacked me'
Since the Jungle was cleared, the population of the government-run camp at Dunkirk, just 30 miles (48km) up the coast from Calais, has started to grow once more.
Of the roughly 1,600 people living in the rows of damp wooden shelters, rising out of the mud between a busy motorway and railway tracks thick with passing freight, many hundreds are children and infants.
"Sometimes I think I'll kill myself. Here, it's no good," says Mohammed, a 15-year-old Iraqi Kurd who is traveling alone.
Mohammed says he has been attacked in what may have been one of the many anti-refugee hate crimes that go unreported here.
"Two people attacked me. Because I am alone. When I went outside [the camp] they attacked me," he told RT.
"I don't know why. I'm not speaking, I am [just] walking, going out. [And they] attack me. I don't know why."
Mohammed says his assailants were French.
Aid workers in northern France have tried to document cases of violence against migrants and refugees, but few of these incidents ever make headlines.
"My experience of hate crime committed against refugees here is extremely unpleasant," said Moseley.
"It always seemed to be targeted against the younger ones. It says something about the type of people who do that, doesn't it? It always seemed to happen by people in groups, never somebody on their own, people in a group would target one person. They would take that one person away somewhere and do something really horrible to them."
'We are not dangerous – we are in danger'
Hostility against migrants and refugees has deepened in recent months, expressing itself in Britain's vote to leave the EU, US President Donald Trump's travel ban and the growing momentum behind Marine Le Pen's campaign for the French presidency.
Rebaz, a 24-year-old also from Iraqi Kurdistan, has only been in Dunkirk for one month. He thinks political rhetoric that conflates refugees with terrorists is actually strengthening the appeal of groups like Islamic State (IS, formerly ISIS/ISIL).
"I think Donald Trump and the people like him are doing right now, it helps terrorism," Rebaz told RT.
"It motivates people to help them, to be among them, there are so many people in the Arabic world who say they want to be peaceful to the European people, but now Donald Trump is hating us so we want to fight back, we must fight back against them, we must kill their people, some motivation. What Donald Trump is doing now is helping ISIS."
For all its talk of protecting human rights and its condemnation of IS brutality, Rebaz says Europe is failing refugees. He insists Europeans have nothing to fear from those seeking asylum.
"You know, in Iraq, we have escaped from terrorism, from terrorists. As you know, in Iraq the situation is not good. There is ISIS, there is so many things like that. We have escaped from them. But here in Europe, they talk about human rights, but they don't help us. They see [us as] terrorists.
"I want to tell them that we are not a danger – we are endangered. We are not dangerous, but we are in danger."
Rebaz is not exaggerating. There are potentially scores of legitimate asylum cases going unreported in Dunkirk alone.
One man who approached RT in the camp is Aram Fareeq Abduljabbar, a 32-year-old journalist from Kirkuk, northern Iraq, who says he was targeted by gunman because of his critical reporting.
Journalists in the region are regularly threatened and even murdered amid violent political infighting between rival Kurdish parties and factions.
Recent examples include Sardasht Osman, who was killed in 2010 after publishing articles critical of the Kurdish Regional Government (KRG), and Kawa Garmyani, who was shot dead outside his home in 2013 days before he planned to publish allegations of corruption against a leading opposition politician.
Fearing he too was in danger, Aram fled the country.
"By telephone some terrorist every day, every day call me, 'I kill you, you need to stop the bullsh*t … I kill you like Kawa Garmyani and Sardasht Osman,'" Aram told RT.
"After that, in a BMW, try to kill me in north Kirkuk by shooting at me, two or three men shoot at me. After that I am leaving to Turkey.
"I don't have a choice."
RT is currently trying to verify Aram's claims.
Monir Zaarour, Middle East and Arab world coordinator for the International Federation of Journalists (IFJ), told RT his organization wrote to the UNHCR in Turkey, helping Aram secure official refugee status in 2013. Aram's case is not without precedent.
"Iraq remains one of the most dangerous countries in the world for journalists including Kurdistan Region of Iraq," said Zaarour. "Several journalists have been assassinated in the last few years in the region because of their critical reporting."
If the British government is willing to suspend its scheme to resettle 3,000 unaccompanied children, the prospects for those like Aram fleeing persecution appear slim. Despite this hardening political mood, thousands more refugees are likely to spill into Europe over the course of 2017.
You can share this story on social media: