1 in 3 refugee kids vanished after Calais 'Jungle' camp demolition – charity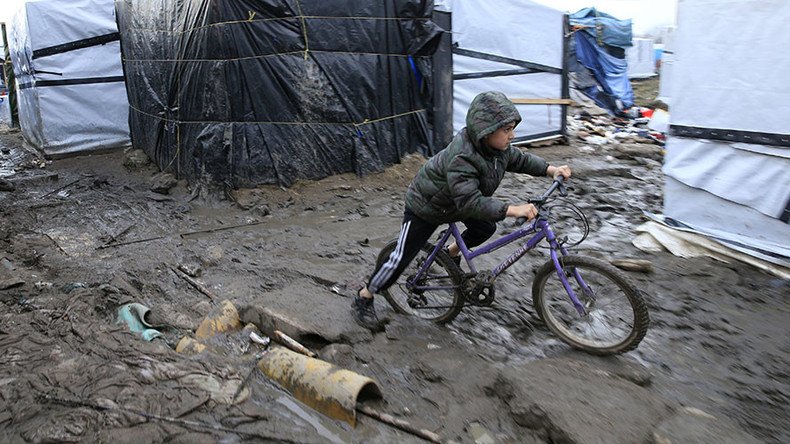 After the demolition of the Calais 'Jungle' migrant camp, about a third of the children previously residing in the squalor who were being tracked by a UK charity have now reportedly gone missing.
The Refugee Youth Service (RYS) said,"a third of the 179 children tracked in October have gone missing after the eviction of the 'jungle'."
"We are disheartened that once again children, the most vulnerable of refugees, have gone missing following the chaotic eviction in Calais. It is particularly worrying that alarm bells are not being raised," said Refugee Youth Service co-founder Josie Naughton.
After the camp which, according to some estimates, housed over 10,000 migrants was demolished following fierce clashes between migrants and police, many unaccompanied children had no place to go. Some minors were reportedly even used to pick fruit at a local farm, just to survive, the Safe Passage UK program previously said.
The rest of the refugees, including some 1,500 children, have been transferred to accommodation centers throughout France when the jungle was demolished on October 24-26. A number of unaccompanied children left the camp for the United Kingdom.

"This has led to worries that these missing children will, instead of turning to state services, be preyed upon by traffickers and smugglers," the charity said.
To get to the UK, which lies just across the English Channel, minors must have relatives already living in the UK. Under this scheme, Britain has already agreed to take in around 1,000 migrant children before the Christmas holidays.
Another legal way for unaccompanied minors to get into the United Kingdom is to seek sanctuary under the so-called Dubs amendment to the Immigration Act.
"Both governments need to start to take responsibility for minors and provide them with adequate safeguarding to ensure they are properly protected and uphold their responsibilities according to the UN convention on the rights of a child," Naughton said.
Thousands of migrants looking to cross the English Channel to find asylum in the UK were holed up on the Calais border for months. The majority of people came from the Middle East and Africa and resided in horrific conditions infested by rats and dominated by water contamination and disease.
There were also reports of violence inside and outside the camp. Frustrated with the situation, migrants from Syria, Iraq, Afghanistan, Nigeria, Sudan and Senegal, regularly attacked lorries and clashed with police as they tried to make it across the English Channel.
Unable to crack down on violence, French authorities went ahead to evacuate some 6,400 migrants from the encampment in 170 buses, starting on 24 October 2016. After fierce clashes, the authorities declared the jungle cleared on 26 October 2016.
You can share this story on social media: