'Rights for whites': Fascist slogans & swastika found in Exeter University student halls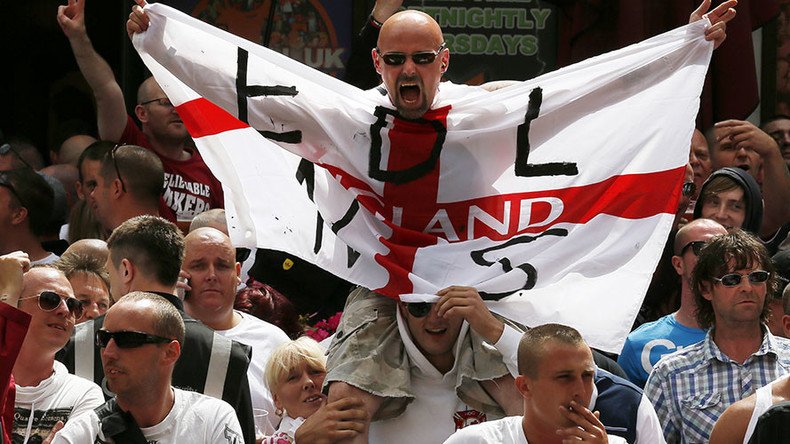 A leading British university has been forced to launch an investigation after white supremacist slogans and a swastika were found in one of its halls of residence.
In a statement about the incident, the Union of Jewish Students (UJS) said: "Universities ought to be safe and welcoming for all students, but this vandalism undermines that principle and indicates instead that some students do not welcome their minority peers.
"Incidents like the one in Exeter undoubtedly make Jewish students uncomfortable and some may feel unwelcome on campus, and even one single incident is one too many."
Figures from Jewish safety charity Community Security Trust recently revealed that anti-Semitic incidents involving Jewish students and academics have doubled over the last year, from 21 to 41 campus-related incidents between 2015 and 2016.
The swastika carved into a door inside one of the on-campus student accommodation blocks has been removed.
Concerns about a rise in anti-Semitism and racism at the University of Exeter started last year when pictures emerged of students at a sports social wearing t-shirts scrawled with offensive slogans.
"The Holocaust was a good time," read one of the T-shirts, while another read "don't talk to me if you're not white."
A spokesperson for the university, part of the Russell Group, told the Guardian at the time that "the investigation into the students' actions is being carried out under the university's disciplinary procedures."
"The investigation is ongoing and no conclusions have yet been drawn, but it appears, from initial inquiries, that this may have been an ill-judged, deeply-offensive joke on the students' part, parodying a sketch in a TV comedy show," they added.
"The university believes any form of racist or discriminatory behavior is unacceptable and the actions of those involved are in contrast to the vast majority of students, who help to build our tolerant and inclusive university community."
Neo-Nazi teen avoids jail
Despite authorities recognizing there is a growing problem of hate crime in Britain directed against minorities, a teenager who was caught making a pipe bomb in his Nazi memorabilia-covered bedroom was spared jail on Monday.
The 17-year-old was caught after concerns were raised about his suspicious internet activity, including his praise for the killer of Labour MP Jo Cox. He called the far-right adherent and murderer Thomas Mair a "hero."
Last month, Leeds Crown Court found the teen guilty of constructing the explosive device, but not guilty of terrorism offences.
A judge ruled this week the young man had already served the equivalent of 14 months in custody, and therefore handed him a three-year Youth Rehabilitation Order instead.
He is banned from several activities, including internet use.
You can share this story on social media: