UK to adopt official anti-Semitism definition following rise in incidents targeting Jews – reports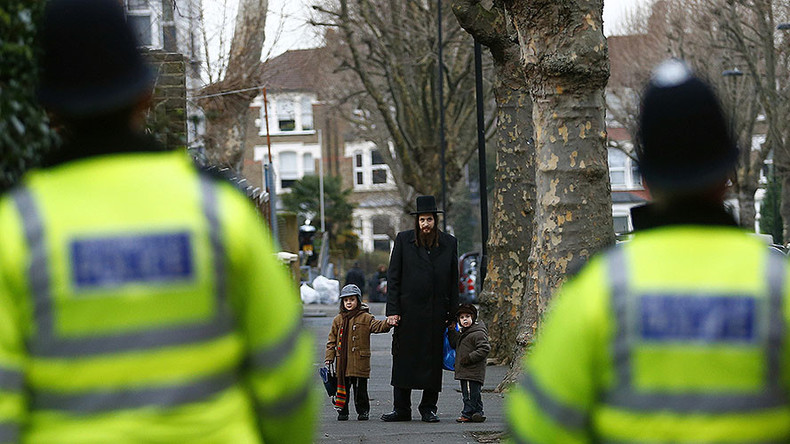 Britain will reportedly become one of the first nations to adopt an official definition of anti-Semitism, following an increase in the number of reported incidents targeting Jews.
Prime Minister Theresa May is apparently set to deliver a speech in which she will state that the adoption of the definition "means there will be one definition of anti-Semitism – in essence, language, or behavior that displays hatred towards Jews because they are Jews – and anyone guilty of that will be called out on it."
She will also say that it is "unacceptable that there is anti-semitism in this country," according to pre-extracts of the speech cited by The Independent.
"...It is even worse that incidents are reportedly on the rise. As a government we are making a real difference and adopting this measure is a ground-breaking step," she will state.
No details were available as to where May's speech was scheduled to occur, according to Reuters. However, The Independent reported that it would take place during a luncheon with the Conservative Friends of Israel.
The definition was developed in May by the International Holocaust Remembrance Alliance (IHRA), an intergovernmental organization backed by 31 countries.
The text states that "anti-semitism is a certain perception of Jews, which may be expressed as hatred toward Jews. Rhetorical and physical manifestations of anti-Semitism are directed toward Jewish or non-Jewish individuals and/or their property, toward Jewish community institutions and religious facilities."
Although the British police currently use a version of this definition, the UK's official adoption of the definition would also mean it will be used by councils, universities, and other public institutions.
Meanwhile, the UK government is due to release its response to an anti-Semitism inquiry conducted by a committee of lawmakers on Tuesday, which found that Labour leader Jeremy Corbyn failed to provide "consistent leadership" in tackling the problem within his party.
Corbyn has suggested the conclusion was biased, with a spokesman for the leader saying, "Jeremy has consistently spoken out against all forms of anti-Semitism and condemned all anti-Semitic abuse, and set up the Charkrabarti inquiry into anti-Semitism and other forms of racism."
The UK's adoption of the anti-semitism definition comes after a rise in reported incidents against Jews. In the first half of 2016, the number of incidents recorded by the Community Secretary Trust (CST), which provides security advise to the country's Jewish population, rose by 11 percent.
The CST said most of the incidents in the first half of the year took place in April, May, and June, when the issue of discrimination against Jews received a larger amount of media attention.
Britain is home to 270,000 Jews, representing the fifth-largest Jewish population in the world.
You can share this story on social media: