'Holocaust was a good time!' Racist, anti-Semitic slogans scrawled on Exeter students' T-shirts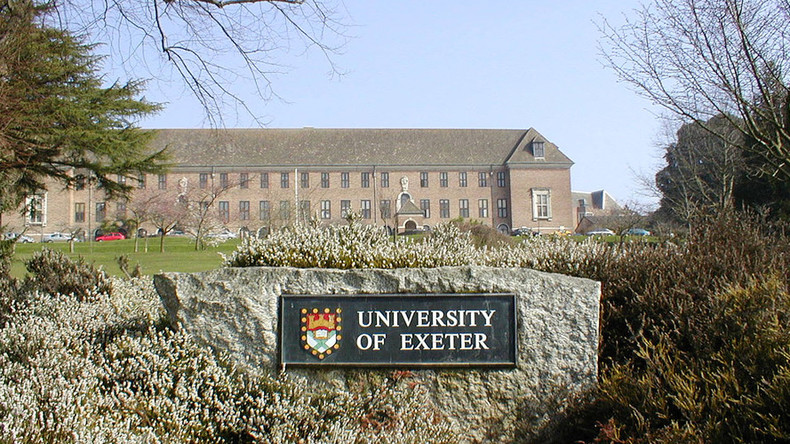 Exeter University is investigating after some of its students were seen donning T-shirts with racist and anti-Semitic slogans, including 'Don't speak to me if you're not white', at a sports club social event.
The slogans were reportedly worn during a white T-shirt social event hosted by the university's Snowsports club, where participants are asked to scribble comments on others' T-shirts with felt-tip pens.
Other racist slogans on the shirts included "the Holocaust was a good time."
The pictures were reportedly taken by a Palestinian student who posted them on social media.
"Making light of genocide and white privilege is not 'banter,' you f*****g imbeciles," she said.
The slogans were drawn on the back of the T-shirts, so it is unclear whether or not the students wearing them had written the comments themselves, she added.
The T-shirts are thought to have been worn during a pub crawl for new students on Tuesday which ended at a local bar called Timepiece.
Photographs of the event appeared on a website, +972, an online magazine which reports events in Israel and Palestine.
The president of the Snowsports society, Lauren Fry, told +972 she was unaware of the slogans during the event, but that Timepiece staff had asked people to leave or change if they were seen with abusive slogans on their T-shirts.
"Comments like these are not tolerated within our club," she said.
"Unfortunately, as only eight committee members, we cannot be responsible for everything written by other students, especially when there is over 1,000 people. Timepiece were asking people to leave or change if they were seen in the venue with any abusive slogans on their T-shirts. As far as I'm aware no complaints were made.
"We apologize if we offended anyone and we feel appropriate action was taken on the night to deal with these types of slogans if they were seen on anyone at our social," she added.
"Snowsports has a zero-tolerance policy for these actions and we will be contacting our members in due course to express this."
A spokesperson for the university told the Express & Echo there would be a full investigation into the reports.
"The University of Exeter is an inclusive and friendly environment where all students are welcomed.
"Anti-Semitic, racist or bigoted behavior in any form is not tolerated. An investigation was launched as soon as the university learnt of this incident."
You can share this story on social media: