​'Racist' Oxford Union cocktail advert sparks race row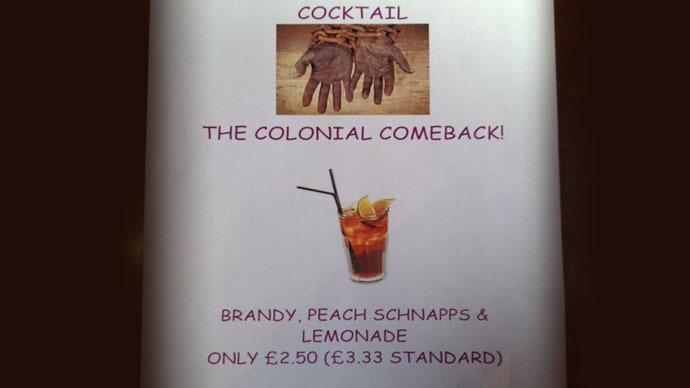 The Oxford Union has caused outrage for displaying an "incredibly racist" advertisement for a cocktail called 'The Colonial Comeback' featuring an image of black hands in chains at a debate on Thursday.
The controversial advertisement was posted at an event organized by Oxford University's 200-year-old debating society titled "This House believe Britain owes reparations to her former colonies."
The event encouraged speakers and guests to debate whether Britain should pay money to former colonies as reparations for alleged historical crimes.
Posters of the "tasteless" £2.50 cocktail circulated the union bar before the event. A race row soon erupted on social media after it was shared online.
A photograph of the poster promoting the drink was first posted on Twitter by student Adam Cooper, who tweeted: "Oxford Union have made a RACIST COLONIAL COCKTAIL for the Reparation debate."
Oxford Union have made a RACIST COLONIAL COCKTAILS for the Reperations debate #rhodesmustfalloxfordpic.twitter.com/YxFqFqACUS

— NativeSon (@adamec87) May 28, 2015
On the train back to London, where at least the racism is subtle

— NativeSon (@adamec87) May 28, 2015
He told the Mirror Online that celebrating enslavement with the message 'colonial comeback' "is taking it too far."
The image went viral on Twitter within minutes and students expressed their anger at the "poor" naming of the cocktail and the "offensive" image on the poster.
However, another student suggested while the name of the drink was "poorly worded," it had been misunderstood.
READ MORE: Oxbridge universities 'institutionally racist,' marginalize working class - Cambridge professor
READ MORE: Oxbridge & privately-educated MP's likely to prevail in election
There are "plenty of ways to express redress or atonement, it seems like they were saying colonialism is coming back," Phd student Brian Kwoba told the Mirror Online.
He said the flyers were changed during the debate and the image of the chained hands was replaced with a map of former British colonies in Africa.
In a statement, Oxford Union Treasurer Zuleyka Shahin denied involvement with the naming of the drink and apologized for any offence caused.
It is understood the "highly offensive" posters were taken down at the event after many guests complained about their content.
On Facebook, the Union posted: "The Oxford Union apologizes for this evening's debate cocktail. This was an error of judgement, and will not be repeated."
However, many were unimpressed with the apology. One student said on Twitter she was "horrified," adding "a Colonial Comeback cocktail, complete with slave imagery, is unforgiveable."
Absolutely HORRIFIED at actions of @OxfordUnion this evening. A Colonial Comeback cocktail, complete with slave imagery, is unforgivable.

— Risham Nadeem (@RishamNadeem) May 28, 2015
Nikhil Vankatesh, Oxford University's Student Union officer for Black and Minority Ethnic students, told the Independent reducing centuries of violent oppression to a "humorously named cocktail is simply unacceptable."
"We are still living with the damaging legacy of colonialism and Oxford itself was complicit in it," she added.
"Sadly Oxford, and especially the Oxford Union, remains dominated by privilege, which is why inconsiderate episodes such as this can occur," she said.
Like how on earth did this even cross someone's mind as a possible thing to do, let alone actually get done? @OxfordUnion

— Cameron J. Quinn (@camstaquinn) May 28, 2015
Annie Teriba, founder of Oxford Blacks Students' Union for Wadham College, told the Cherwell paper she is "horrified that the Union thinks it's okay to trivialize centuries of oppression and racist violence in the form of a drink."
"Colonialism is a hard pill to swallow," she told the Independent. "Especially as its legacy continues to visit violence upon black bodies," she added.
Teriba says she is anticipating an "apology and explanation from the President" for allowing the bar she pays money "to join to be decorated with colonial pornography."
The Oxford Union has refused to comment on this incident.