Tony Blair is to blame for Brexit, says Chancellor Hammond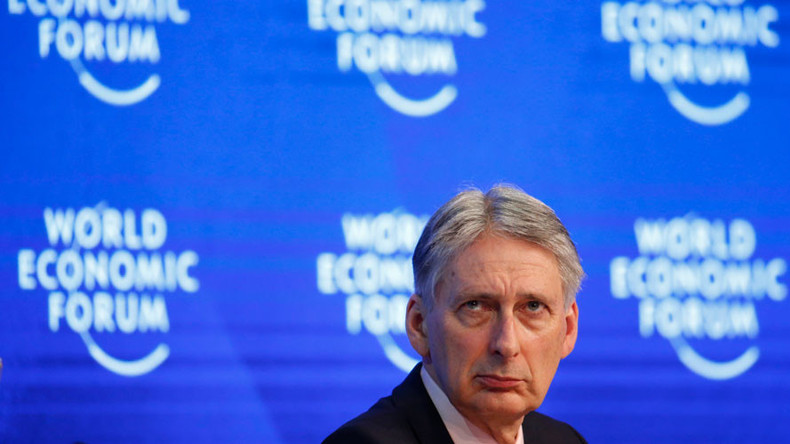 British Chancellor Philip Hammond has blamed Tony Blair for Brexit because the ex-prime minister allowed a "deluge" of migrants to come into the country from the European Union.
Hammond, who originally supported the Remain campaign, argued it was Blair's fault that people in Britain feel ill at ease with immigration, after the former Labour leader allowed workers from newer EU member states in eastern European to enter the UK without any controls.
"I'm convinced that the die was cast on British attitudes to EU migration back in 2004, when Tony Blair decided not to have a transition phase," the Chancellor told Sky News during an interview at the World Economic Forum in Davos.
"We had a deluge of new migrants coming to the UK – a far higher number than the government had predicted in 2004/5. I think the attitudes that were displayed in the referendum result were formed during that period when people felt very scared by the scale of migration into the UK from Eastern Europe," he added.
"Tony Blair's government told us to expect 30,000 – we got 300,000. I can understand why people in Britain found that change and the speed of that change very challenging and sometimes frightening. And that shaped the attitudes we saw in the referendum decision."
Ten countries joined the bloc in 2004, in what became the largest single expansion of EU membership.
Of those countries, seven were former 'Eastern Bloc' nations, including the Czech Republic, Lithuania, and Poland.
Several existing members of the EU decided to implement restrictions on freedom of movement for citizens of these countries. Then-PM Blair chose not to implement transitional limits for immigrants to the UK.
Hammond blames Blair for Brxit! Makes a change, it's normally the 08 crash, even though that was the BANKERS. Tory bullshit & crap

— Jeff (@timberjeff53) January 20, 2017
Blair said in 2012 he did not regret his decision, and that Polish people do "good work in our country."
A Polish citizen died in Harrow shortly after the Brexit referendum vote took place, following an unprovoked attack by six teenagers. His death has been described as a hate crime.
You can share this story on social media: