Tony Blair rules out return to frontline politics, says Brexit can be stopped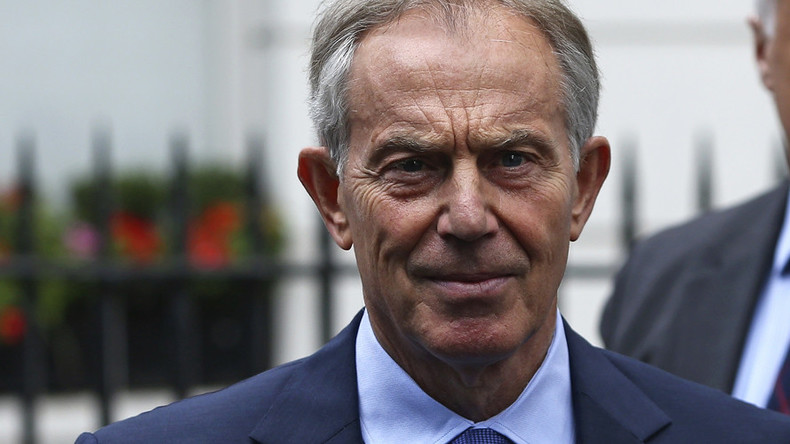 Iraq War-era Prime Minister Tony Blair has ruled out the possibility of returning to frontline politics, as he's aware that the media would "literally move to destroy mode," but a backseat role could still be in the cards.
In an interview with the New Statesman, the former Labour leader confirmed that he wanted to return to politics given the current state of world affairs.Although he has been "dismayed" by recent political events, Blair said he does not want a role in the Brexit negotiations, "or to lead the resistance to it."
The comments follow speculation among political pundits that Blair is plotting a comeback in the face of Brexit and Jeremy Corbyn's Labour leadership.
However, he told the current affairs magazine that he is only interested in reviving the "progressive center or center left."
"What I'm doing is to spend more time not in the front line of politics, because I have no intention of going back to the front line of politics, to correct another misunderstanding," Blair told New Statesman editor Jason Cowley.
"I'm dismayed by the state of Western politics, but also incredibly motivated by it. I think in Britain today, you've got millions of effectively politically homeless people.
"I can't come into front-line politics. There's just too much hostility, and also there are elements of the media who would literally move to destroy mode if I tried to do that," he predicted
Simple fact is #tonyblair involvement in anti #brexit movement whether it's big or small is a political hand grenade with pin pulled out.

— Harry Leslie Smith (@Harryslaststand) November 24, 2016
Lots of speculation around about new organisation but further and more accurate information will come soon!

— Tony Blair Office (@tonyblairoffice) November 21, 2016
Last month, Blair gave a similar interview to Esquire magazine, in which he said that Britain risked turning into a "one party state" because Corbyn's leadership of the Labour Party could allow the Tories to win all future general elections.
You can share this story on social media: