The 1% plotting to halt Brexit & bring back Tony Blair, leaked memo suggests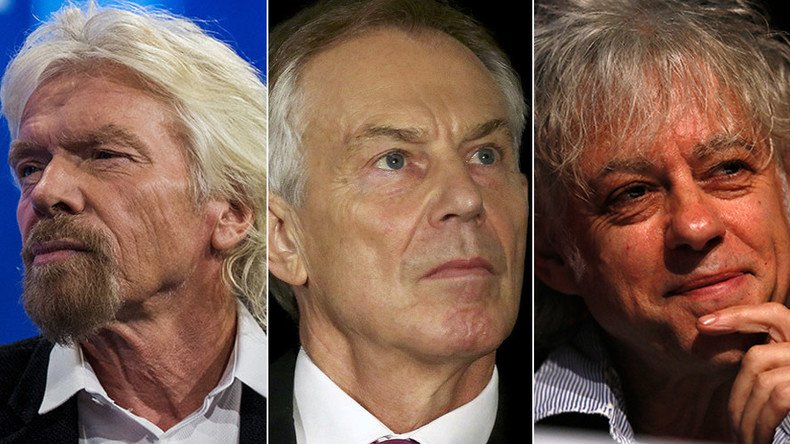 Blairite millionaires, politicians and media tycoons are reportedly plotting to stop Brexit in its tracks, a leaked memo suggests. Virgin Group chief Sir Richard Branson is apparently bankrolling the scheme.
A memo leaked to the Independent suggests the plot has been underway for months, with financial backing secured and a potential CEO for the group identified.
The newspaper claims the information was found in an email penned by Tony Blair's former health secretary and right-hand man Alan Milburn.
The document also reveals how Virgin made at least £25,000 (US$30,000) available to the as yet unnamed group, while PR firm Freuds is working on the campaign's marketing.
Freuds hit the front pages earlier this year when allegations it had been orchestrating a "coup" against serving Labour leader Jeremy Corbyn came to the fore.
A string of high-profile politicians, including one-time Deputy Prime Minister Nick Clegg and Labour backbencher Chuka Umunna, have been linked to the campaign. Millionaire musician-turned-philanthropist Bob Geldof is also meant to be involved.
"We have been beavering away over the last few months to get a Europe campaign up and running. I'm pleased to say that substantial progress has been made," the memo reads.
"I have met the Freuds team several times and we are making good progress. I have been in discussions with an excellent potential CEO to lead the campaign.
"Virgin ... are keen to help. Since we last spoke [they] have offered a further £25k, plus bigger office space, help with legal advice and a possible secondment."
According to the Independent's sources, a total of £1 million has already been pledged to the group, which plans to push for a second referendum after Brexit negotiations have been held and the terms have been laid out.
Its backers include several of Tony Blair's former ministers, including John Hutton and Douglas Alexander, as well as former Tory Health Secretary Stephen Dorrell.
The group's official launch would take place in the new year.
"Since the EU referendum, Virgin has not made any payments to any Brexit campaign or organization," a Virgin spokesman told the Independent.
"It is well known that Richard supported the Remain campaign before the referendum, and as a result people involved in all sides of the debate are interested in Virgin's views on Brexit and its impact on business. Virgin is interested in engaging with different organizations to understand the impact Brexit will have on the UK."
It has long been rumored that Blair is plotting a return to British politics, with his former adviser John McTernan telling BBC Newsnight on Monday: "People are getting very excited and correctly excited because he is the biggest political figure of our era. And people can't stop talking about him because everyone wants him back in some way, shape or form."
"He bestrides British politics still," McTernan added. "It's nearly a decade since he stopped being prime minister, stopped being an MP, and we are on television now talking about him coming back. Of course he excited people, [he] clearly does."
Milburn is yet to comment on the leaked memo.
You can share this story on social media: