Tony Blair's return to politics would re-energize Brexit movement, say Euroskeptics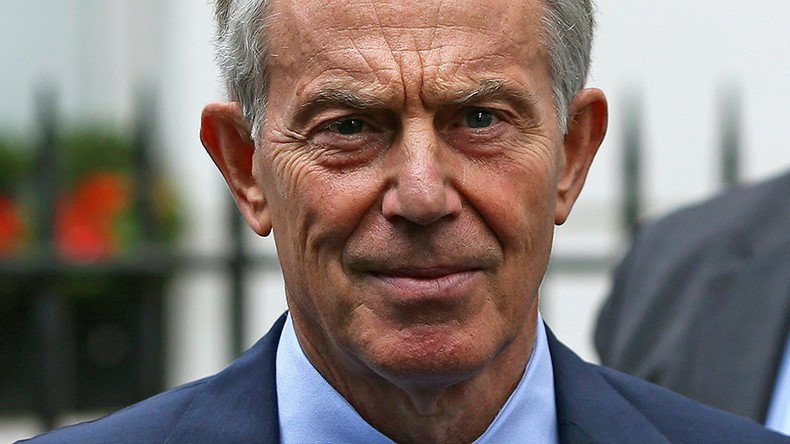 Iraq War-era Prime Minister Tony Blair has denied planning a shock return to frontline politics to actively oppose Brexit after branding Labour leader Jeremy Corbyn a "nutter" and current Tory PM Theresa May a "lightweight."
Brexit campaigners were elated by news of Blair's rumored return because they predict the move would only to re-energize the pro-Brexit movement.
A source close to Blair told the Sunday Times the former leader was "not impressed with Theresa May. He thinks she's a total lightweight.
"He thinks Jeremy Corbyn is a nutter [crazy] and the Tories are screwing up Brexit. He thinks there's a massive hole in British politics that he can fill."
MPs who favor Brexit told the Telegraph a return would be a huge boost for their campaign.
"This is glorious news, he is one of those discredited establishment figures who repels many people. For this he must win the international prize for lack of self-awareness this year," ex-Environment Secretary Owen Paterson told the paper.
Peter Lilley MP said Blair "does discredit most things he touches, so that must be beneficial for us. Basically he is not in favor of Brexit, he is in favor of a hokey-cokey Brexit.
"One where you take your left leg out, put your left leg in, shake it all about and end up where you were when you started."
It has also been reported that Blair is looking for new premises in London from which to wage his anti-Brexit campaign.
Another figure who could soon make a fresh bid for a top role in politics is Nigel Farage.
Amid claims he is angling for a top job at the White House following Donald Trump's presidential election win, the interim UKIP leader may also make an eighth bid for a parliamentary seat.
After an unsuccessful bid for South Thanet in 2015, Farage could make another attempt depending on the outcome of an investigation into electoral fraud in the constituency.
"I suspect one of the reasons Downing Street is being so vile about me — just when I can play a positive role with Trump — is because they are worried this may come back to bite them," Farage told the Mail on Sunday.
Asked if he would take another shot at the seat in the event of another election, he said: "I'd have to."
You can share this story on social media: