British MPs urge independent inquiry into claims of Saudi war crimes in Yemen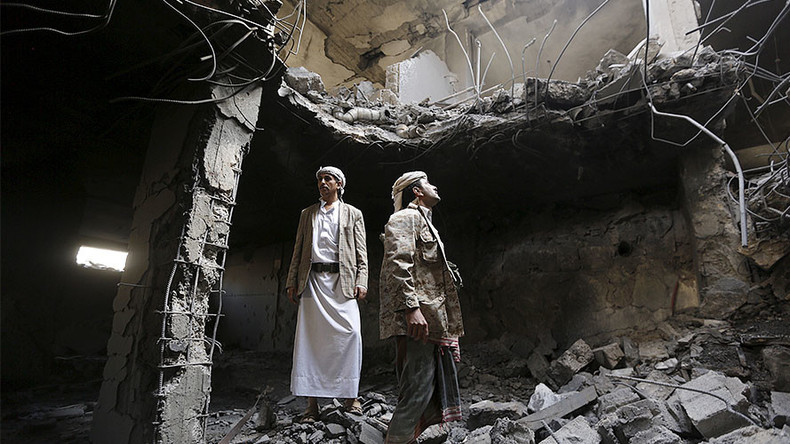 British politicians have called for an independent investigation into possible breaches in humanitarian law in Yemen's civil war as Saudi Arabia cannot be expected to lead such an inquiry.
A debate in Parliament over the "ongoing humanitarian crisis in Yemen" saw members on both sides of the House of Commons urging for an end to British arms sales to Saudi Arabia.
Riyadh was also criticized for being "too slow" on delivering a report on alleged war crimes, including the intentional targeting of civilian areas.
Yemen, a nation with just under 30 million people, has been mired in civil war since 2015, with a Saudi-led coalition supporting the official government of Abd Rabbuh Mansur Hadi against an Iran-backed Houthi rebellion supporting former President Ali Abdullah Saleh.
Britain is officially one of Saudi Arabia's partners in the enterprise providing armaments and military advice.
The debate, led by the Labour chairman of the International Development Select Committee, Stephen Twigg, described an independent inquiry into the alleged breaches as "long overdue" and the progress made by the Saudis on their own investigations as "glacial."
"The government repeatedly over the last 14 months have been asked about Saudi Arabia's own investigations," Twigg said.
"To my knowledge, and the minister may be able to update us today, Saudi Arabia have produced nine reports on violations even though there have been many other allegations made.
"Progress I believe on this is glacial and I find it remarkable that the government still holds the line that Saudi Arabia must take responsibility for investigating its own alleged violations."
He was supported in some of his concerns by Foreign Affairs Minister Tobias Ellwood, who conceded the process had been lagging. But the Tory former infantry soldier argued the delays had been caused by the Saudis' inexperience in writing such a report, and "having to learn the hard way to show the transparency that the international community expects."
In December, Defence Secretary Michael Fallon confirmed the usage of British-made cluster-bombs by Saudi-led forces on the ground in Yemen. He insisted the targets were military bases and not civilians.
However, even Tory backbenchers seemed to have had enough of Saudi Arabia's apparent tardiness and demanded a halt to British arms licensing to the nation until a United Nations audit took place.
"From a UK perspective and to protect our reputation and example to the world in terms of arms export licensing, it is right that we suspend our sale of arms to Saudi Arabia until a UN-led investigation is completed," said the Committees on Arms Exports Controls chairman, Conservative MP Chris White.
"The UK should be an example to the world in terms of our licensing regime, our commitment to the rule of law and our responsiveness to these challenges. Criterion 2C of our arms exports licensing regime forbids the authorization of arms sales if there is a clear risk of the violation of international humanitarian law."
He said well over 100 credible allegations of humanitarian law breaches had come to light over the last two years, adding: "I ask the minister ... at what point is this threshold met?"
Min. Ellwood refuses to say when he'll call time on Saudi investigatns into civilian deaths in Yemen & back an international inquiry. Shame

— Tom Brake MP (@thomasbrake) January 12, 2017
According to figures collected by Campaign Against Arms Trade (CAAT) the UK has licensed £3.3 billion (US$4 billion) worth of arms to the Saudi regime since the beginning of the Yemen bombing campaign. Nearly half of that amount (£1.1 billion) was spent on bombs, grenades and missiles alone.
"The UK government has been complicit in the destruction of Yemen and the humanitarian catastrophe that has been forced upon the Yemeni people," said CAAT spokesman Andrew Smith.
"Parliament must stand with those caught in the middle of the devastating conflict and support an international investigation into the human rights abuses that are taking place."
READ MORE: Boris Johnson's criticism of 'puppeteer' Saudi Arabia disowned by Downing Street

British comedian Eddie Izzard, who was born in Yemen, also appealed to the government on Wednesday for an independent investigation.
"Labour MPs have raised Yemen in Parliament time and again and there was an Opposition Day debate to highlight this issue, but we must keep up the pressure so that ministers act," said the Labour supporter.
"The UN has found that 60 percent of civilian casualties in the conflict are because of coalition airstrikes and a report by the UN High Commissioner for Human Rights last summer laid out a number of serious allegations of violations of international humanitarian law and human rights law committed by all sides.
"Our government must be at the forefront of protecting civilians in conflict zones."
You can share this story on social media: