Britain continues to back Saudi bombing of Yemen, despite US stopping arms sale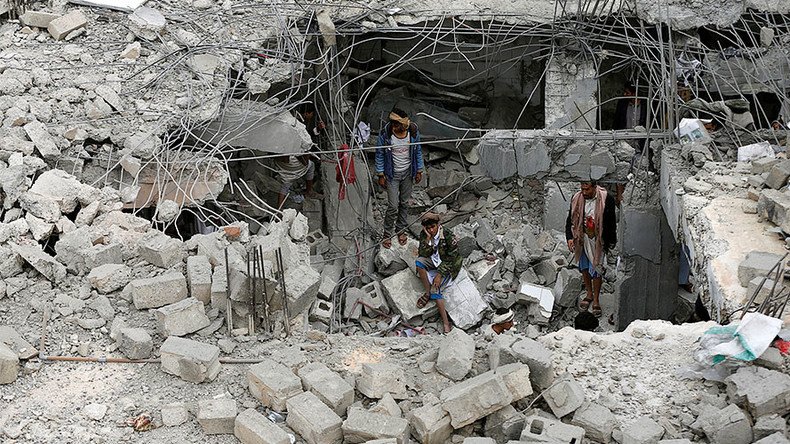 The US will halt a planned arms sale to Saudi Arabia due to "strong concerns" over civilian deaths in the country's Yemen campaign. The announcement came just 48 hours after UK Foreign Secretary Boris Johnson restated his support for the Gulf kingdom.
The US administration will also limit future air training in Saudi Arabia to prioritize targeting, officials said.
Up to 10,000 people have been killed since fighting began in Yemen, including 4,000 civilians, according to UN estimates.
The UN stated in August that the Saudi-led coalition is responsible for 60 percent of the civilian deaths.
US action on Saudi Arabia runs in stark contrast to British policy to the Gulf kingdom, which it continues to back militarily.
Speaking at Prime Minister's Questions (PMQs) on Wednesday, the PM defended Britain's continued support for Saudi Arabia.
"The intervention in Yemen is a UN-backed intervention. As I've said previously, where there are allegations of breaches of international humanitarian law, then we require those to be properly investigated," Theresa May said, in response to a question from Scottish National Party MP Angus Robertson regarding the US arms blockade.
"We do have a relationship with Saudi Arabia, the security of the Gulf is important to us, and I would also simply remind the right honourable gentleman that actually the counter-terrorism links we have with Saudi Arabia, the intelligence we get from Saudi Arabia, has saved potentially hundreds of lives here in the UK."
Johnson restated his support for the Saudi campaign in Yemen on a visit to Riyadh on the weekend.
He said he had deep concern for the civilians caught in the war, but said it was intolerable that Saudi Arabia faced attack from over its southern border.
Meanwhile, Britain was accused of war crimes on Wednesday by the new prime minister of Yemen's Houthi movement.
"They have sold cluster bombs to Saudi Arabia. They know the Saudis are going to drop them on Yemen… in Sa'adah and in Sana'a and other provinces," Abdulaziz bin Habtour told Sky News.
"I don't think they are guilty of war crimes, I believe so. They are participating in the bombing of Yemen people."
The British government refused to stop selling arms to Saudi Arabia in November, rejecting calls from two parliamentary committees and human rights groups.
According to Campaign Against the Arms Trade (CAAT), Britain licensed £3.3 billion (US$4.1 billion) of arms sales to Riyadh during the first 12 months of the Yemen war.
Britain also provides support in the form of military experts who are "in control rooms" of the Saudi coalition as it bombs Houthi rebels in Yemen, Saudi Foreign Minister Adel Jubeir confirmed in January.
The Ministry of Defence (MoD) has stressed that British military advisers are not directly involved in choosing targets or programming precision weapons for the Saudis.
The US government appears to have buckled under pressure from human rights groups and lawmakers in Congress who have been critical of its ongoing support for Riyadh.
A senior US administration official told AFP: "We have made clear that US security cooperation is not a blank check. Consequently, we have decided to not move forward with some foreign military sales cases for munitions.
"This reflects our continued, strong concerns with the flaws in the coalition's targeting practices and overall prosecution of the air campaign in Yemen."
The cancelled sale was of precision-guided munitions built by US arms firm Raytheon.
The sudden shift in US policy comes three months after a number of influential US senators led a high-profile campaign to block arms sales to Saudi Arabia. Despite protests, the legislation passed in the US Senate by 71 to 27.
William Hartung of the US-based think tank Center for International Policy criticized the latest US arms suspension as "too weak of a signal."
"As long as they're going to [be] refueling aircraft which is central to the bombing campaign, it's hard to see that they're using all the leverage they have," he said.
You can share this story on social media: