'Corbyn For PM' single goes for top spot at Christmas (VIDEO)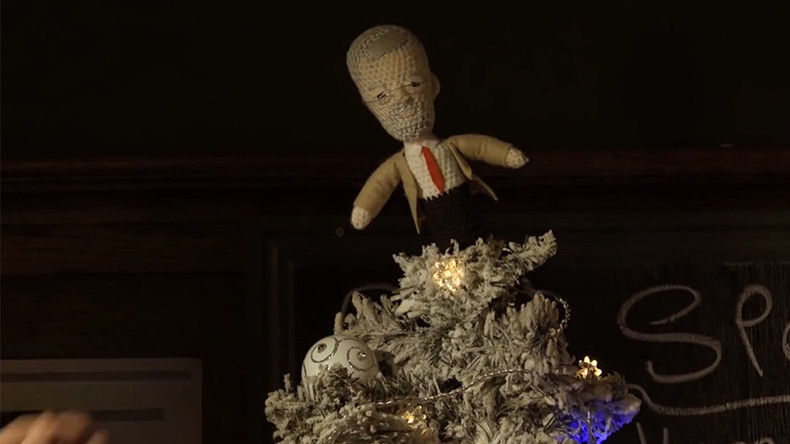 Labour Party leader Jeremy Corbyn has been called many things in his political career, but musical muse has probably not been one of them.
Now though, a group of musicians, poets and actors has decided to "make a nice way of seeing the year out" and put together a song about the Islington MP.
RT UK spoke with the musician behind the 'JC 4 PM 4 Me' single, Robb Johnson, to find out why Corbyn, why now, and what are the chances of the song becoming this year's official Christmas number one hit in the British music charts.
"We thought it would make it a good way to see the year out, by making it cheesily festive," Johnson said. "Not least, I suppose, to remind the media and the wider world that actually whatever they say about Jeremy Corbyn, he's extremely popular. I'm going to vote for him and practically everyone else I've showed the song to said, 'Yeah, I'm going to vote for Jeremy Corbyn.'
"Regardless of what the media generally says, the old grumbly moany scrooges say, he has achieved something quite significant in British politics over the last couple of years."
And while the record was only officially released December 9 on iTunes, Amazon and vinyl, the music video and its teaser were viewed several thousand times in the space of a few days after being shared on the internet.
Johnson is convinced the popularity of the song is linked to the "discontent" felt in Britain after successive governments pushed the country into wars, social division and austerity.
"The great leadership skills of [Tony] Blair, our great leader, what did his leadership do? It led us into the disastrous war with Iraq, hundreds of thousands dead, appalling consequences for the rest of the whole region," he said.
"We're fed up with that, people want something different. And the great thing about Jeremy Corbyn, because he was always someone principled and his principles stand for social justice and fairness and equality, people go, 'Yeah, that's what I want, I don't really want hate and humbug.' Because, as the Corbyn project says, that's not going to build homes, is it? Hate isn't going to build homes, cooperation is. Austerity is a political choice."
Johnson and his collaborators, including actress Maxine Peake, who voices a Christmas spirit at the start of the 'JC 4 PM 4 Me' music video, hope the single will climb the charts and hit Christmas number one. But the odds are not in their favor, as bookies gave the song a 100/1 chance of winning the title, while this year's X Factor winner stands at 4/1 with companies such as Paddy Power and Betfair.
But because the year was full of events to digest, we asked Corbyn's troubadour to give us his views on the most important political question – who would win in an arm wrestle between Corbyn and Prime Minister Theresa May?
"[Theresa May] is pretty ferocious, isn't she? I think she'd cheat. She'd probably say, 'Look over there Jeremy,' and she'd then get Boris Johnson to sit on his hand."
You can share this story on social media: