Press tags along for British military's Mosul PR drive
Published time: 28 Nov, 2016 12:20
Edited time: 29 Nov, 2016 15:16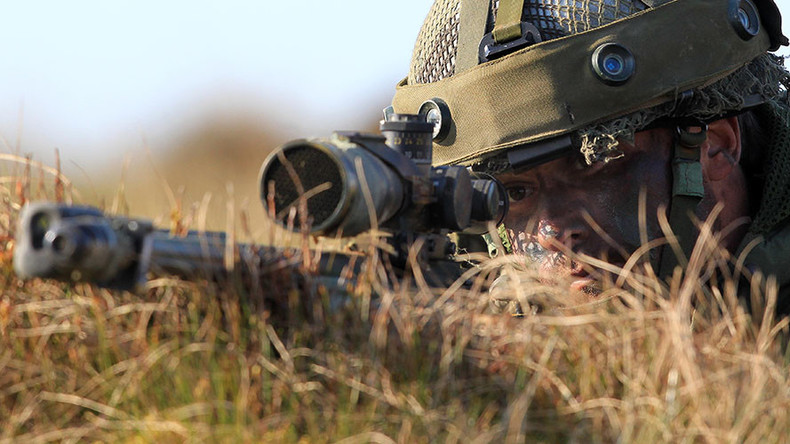 British mainstream media have pounced on a Ministry of Defence (MoD) invitation to meet a sniper who yearns to take on jihadists from the UK's Camp Havoc base in Iraq.
Media outlets, including the Murdoch-owned Times and the Guardian, were invited to visit the base, where around 250 British infantrymen plus support personnel are stationed.
Previously known as Camp Cupcake when run by the US, the base has been used by the UK to train local forces.
The media outlets dispatched their security and defense reporters to meet, among others, a highly-rated sniper, who appears to yearn for war.
The soldier told reporters he had been tasked with training local marksmen but that he would "love" to go out to the besieged city of Mosul.
In keeping with MoD policy for prone-to-capture personnel, the color sergeant, who is a veteran of Iraq and Afghanistan from 4th Battalion The Rifles, was not identified.
"I have been in [the army] 20 years now and it is something you are trained to do, you know.
"And it is something, not in a sadistic way, we enjoy. The army has spent a lot of money on sniping and the capability and we are just here to provide that capability."
Also interviewed was Major-General Rupert Jones, senior British officer in Iraq and son of Colonel 'H' Jones, who won a posthumous Victoria Cross (VC) after being killed in the Falklands War in 1982.
He said the reason "we are all here is because Daesh [Arabic pejorative term for Islamic State/IS] has demonstrated it poses a threat to our way of life."
"It's demonstrated very effectively what it can do in Europe and elsewhere.
"What we have all got to then have is patience and what you want is the ISF [Iraqi Security Forces] to clear their way through the city in a deliberate manner," he said.
"They could hard charge their way through the city and there would be an awful lot of civilian casualties but it has been really impressive to watch [Iraqi Prime Minister Haider al-] Abadi downwards really care about civilian casualties.
"Therefore, they are taking a deliberate manner and trying to minimize their own casualties," he added.