'I'm coming back in 200 years': 14yo girl wins right to be cryogenically frozen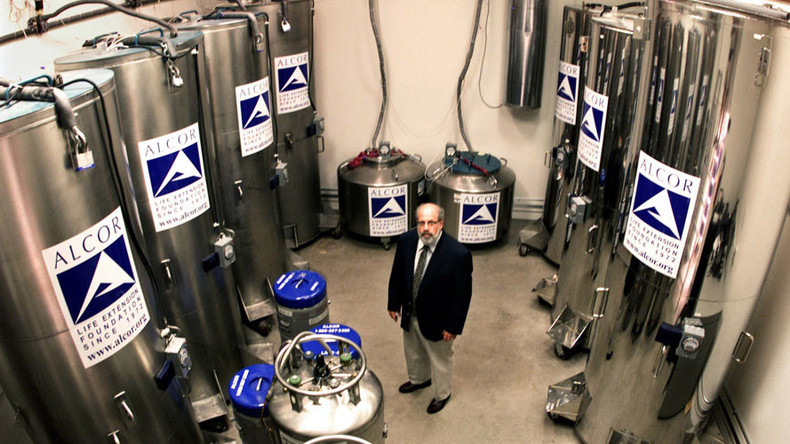 A British teenager who died of cancer has been cryogenically frozen after winning a landmark court case shortly before her death.
The 14-year-old girl's divorced parents became embroiled in a legal battle over whether her wish to be frozen in a specialist facility in the United States should be granted.
Mr. Justice Peter Jackson, who ruled in favor of the terminally ill teenager, said his ruling concerned a dispute between parents and not the rights and wrongs of cryogenic preservation.
Lawyers say that the girl's remains were taken to the US and frozen following her death on October 17, making the teen one of only 10 Britons to be cryogenically preserved and the only British child.
In a touching letter to the court, the unnamed teenager wrote: "I don't want to die but I know I am going to… I want to live longer… I want to have this chance."
The Telegraph reports that she told a relative: "I'm dying, but I'm going to come back again in 200 years."
The girl asked the court to rule that her mother, who supported her wish to be cryogenically frozen, should be the only person allowed to decide on how her body was to be disposed of.
Jackson ruled in favor of the mother after receiving a letter from the girl and visiting her in the hospital.
She called Jackson her "hero" upon learning of the verdict, according to the girl's solicitor, Zoe Fleetwood.
The judge said that he had been moved by the "valiant way" the girl was facing her "predicament," while noting that she had carried out internet research into cryonics during her last months of life.
He also noted that the girl's application was the only one of its kind to have ever come before a court in England or Wales, and possibly any jurisdiction in the world.
He said the case was an example of how scientific advances can pose new questions to the legal field.
A lawyer representing the girl described her as a "bright, intelligent young person."
Jackson said the relationship between the girl's parents was "very bad," and that, although her father initially resisted her wish to be cryogenically preserved, he eventually conceded.
The judge added that the man's change of heart was understandable. "No other parent has ever been put in his position," he said.
In according with the girl's wishes, Jackson ruled that no one involved in the case can be identified.