Free heroin given to drug addicts in Britain's first supervised 'fix rooms'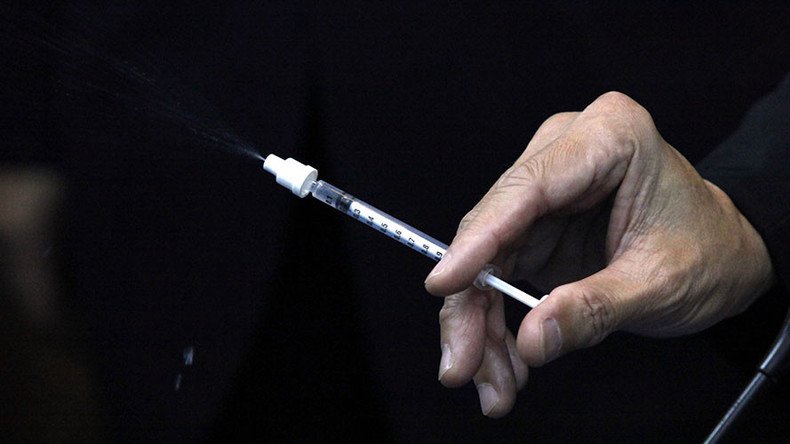 A plan to open the UK's first "fix rooms" to allow heroin addicts to inject safely under supervision in the Scottish city of Glasgow is expected to get the green light despite some opposition.
The move, expected to be agreed on by members of the health board, the city council, and police at a meeting on Monday, will mean the estimated 500 users who inject on the city's streets will have access to medical-grade heroin to inject with clean needles under the supervision of a medical professional.
Also known as "shooting galleries," the facilities aim to tackle drug-related deaths, the spread of infections among users, and the amount of needles and injecting equipment left in public areas.
The Glasgow City Alcohol and Drug Partnership (ADP) says street users experience problems such as homelessness, mental health issues, and poverty, and a heightened risk of blood-borne viruses, overdose, and drug-related death.
There was an outbreak of HIV in Glasgow last year, with 47 new infections compared to the previously consistent annual average of ten. There have also been several outbreaks of infectious diseases such as botulism and anthrax.
The Scottish Drugs Forum (SDF), a drugs policy and information organization, estimates there are roughly 90 similar injecting facilities operating worldwide, including in Australia, Germany, France, Holland, and Switzerland.
Its director, David Liddell, said there is a "desperate need" for the facilities and more understanding in policies surrounding drug addiction.
"We have people who are mostly long-term users – people have been using for more than 20 years or more. Abstinence recovery is not on their immediate horizon," he told the BBC.
"The most immediate thing for these individuals is the need to keep them alive so they can recover in the future.
"If we don't reach out to these people more effectively they will die in a short period of time. Let's try and be a bit more compassionate for these people," he added.
But Professor Neil McKeganey, founder of the Centre of Drug Misuse and Research, said addicts need help to get off drugs. He says that less than five percent of drug addicts surveyed in Scotland wanted help to inject more safely.
"The overwhelming majority said they wanted help to become drugs free," McKeganey said.
"These facilities have a role to play but there is a real danger here we are moving steadily away from services to get addicts off drugs."
Details such as how much the fix rooms will cost, where they will be located, and who will staff them are yet to be determined.
The proposals will be considered by the Glasgow City Integration Joint Board.
A similar facility is being considered by councillors in Dundee.
A Paris hospital recently started housing France's first major 'shooting gallery,' which was opened by the city mayor and health minister near the Gare du Nord, where drug crime is notoriously rife.
You can share this story on social media: