Cocaine, heroin addiction 'more common in homeless women than men' – study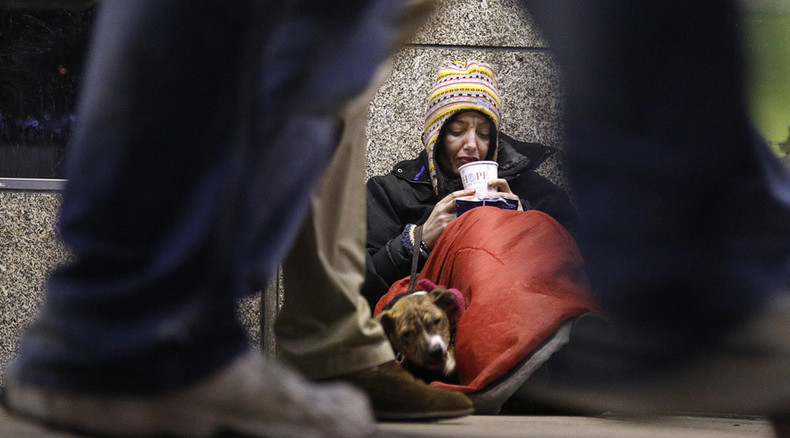 Addiction to cocaine and heroin is more common among homeless women than men, according to new research.
The research, carried out by Homeless Link, shows a third of homeless women used heroin in the last month, compared to 28 percent of homeless men.
Some 31 percent of women confessed to taking cocaine, compared with 29 percent of men.
The study examined 3,555 homeless people in England and found that more women used methadone, a heroin-substitute, than men.
Mental health conditions such as depression were also found to be more common among women than men.
Overall, 91 percent of those surveyed in the study had mental health issues while 88 percent had physical health problems.
Some 37 percent admitted to drinking alcohol every day, while 38 percent had visited accident and emergency departments at least once in the past six months.
Homeless Link director of policy and communications Jacqui McCluskey said: "The details revealed by the research may be surprising, but they illustrate how useful a health-needs audit can be in accurately assessing the needs of those experiencing homelessness."
McCluskey said the evidence is "vital" for local areas to ensure the most effective responses to homeless people's needs are commissioned.
"There is a clear link between housing and health needs, which services across both sectors must work together to address," she added.
Homeless Link urge public health, health services and housing and homelessness partners across England to carry out local audits "to ensure homeless people in their area have access to the support they need."
Public Health England's national director for health and well-being Prof Kevin Fenton said the only way to help these "vulnerable people" is to understand their health needs.
"Homeless people experience significantly worse health than that of the general population, and the cost to the NHS in considerable," he said in a statement.
"If we are to make improvements for these very vulnerable people we need to develop our understanding of this population and their specific needs."
According to Homeless Link figures published in February, 2,744 people are estimated to be sleeping rough every night in Britain.
Homeless women are at higher risk of being physically attacked, verbally abused and sexual assaulted.
Some 12 percent of rough sleepers in London are women, according to homelessness agencies, but Crisis say this figure is "likely to be an underestimate."
Homeless women often prefer to "remain invisible" by choosing places to sleep which are hidden to disguise their homeless status.
Crisis research found 60 percent of homeless women have slept rough, but only 12 percent engage with street outreach teams.