Pig sick: Deadly superbug found in British supermarket pork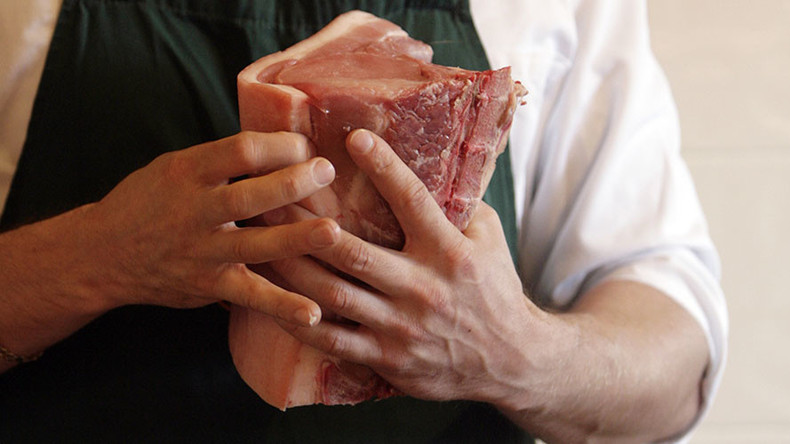 Tests have shown UK-produced pork products being sold in Asda and Sainsbury's supermarkets are contaminated with a deadly strain of superbug which can be resistant to even the strongest antibiotics.
The Bureau of Investigative Journalism (TBIJ) tested 97 pork products sold at the supermarkets and found three were contaminated with MRSA CC398 – a potentially deadly bacteria which can cause serious health problems.
The bug is less harmful to humans than the MRSA bug that kills about 300 people in hospitals in England and Wales each year, but is known to be responsible for at least six deaths in Denmark.
In Denmark, the MRSA CC398 is viewed as a public health crisis. Appearing over a decade ago, it now affects about two-thirds of pig farms, with 12,000 people believed to have contracted it.
Current regulations in British import regulations leave an "open door" for MRSA CC398-infected live pigs to arrive from places like Denmark, according to the Guardian.
The bug can be contracted from infected meat and animals, with workers on pig farms able to catch the disease and pass it on to other people. It can cause chronic infections and seriously harm people with compromised immune systems.
Professor Tim Lang of the Centre for Food Policy at City University in London said that tighter controls on the movement of live animals are needed to ensure the bug does not spread.
"The British are up in arms about the movement of people, but the EU also has a large movement of animals. We need biosecurity, we need to tighten up this livestock movement.
"You may get cheap meat, but in the long term it's going to add to your public health problems."
There is currently no screening program for the superbug on British farms.
In a statement, the Department for Environment, Food and Rural Affairs said livestock-associated MRSA is not the same as MRSA strains that can cause infections.
"If meat is handled and prepared properly the risk to people is low."
It added: "The government is reviewing options for surveillance, which will be proportionate to the very low health risk posed by livestock-associated MRSA."
Professor Erik Millstone of Sussex University anticipated the government would downplay the risk of the bug, but said "while the [government] tries its customary tactics of blaming the victim, it won't work."
Asda refused to comment on the findings, while Sainsbury's said MRSA CC398 is "very uncommon" in British pork and that it was working with farmers "to ensure antibiotics are used responsibly and are taking advice from leading industry experts."
The World Health Organization (WHO) says antibiotic resistance is one of the leading public health threats on the planet.
Overuse and misuse of antibiotics has led to mutations in once curable diseases.
You can share this story on social media: