London's Muslim mayor Sadiq Khan accuses Trump of 'playing into hands of ISIS' on US visit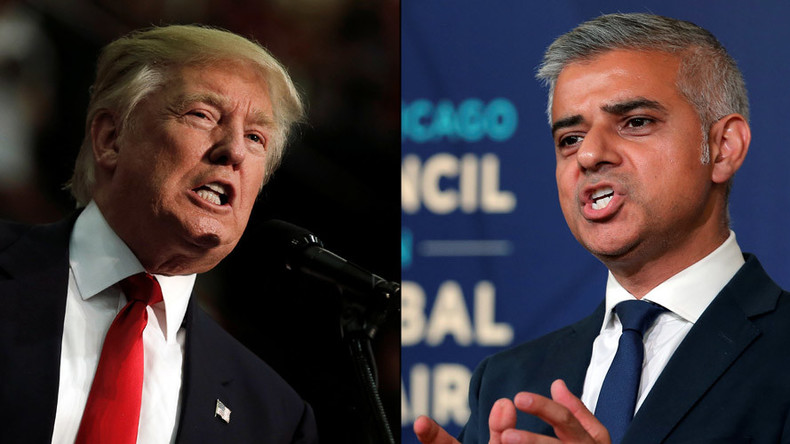 During a five-day tour of North America, Mayor of London Sadiq Khan has accused presidential contender Donald Trump of "playing into the hands of Daesh [Islamic State]" by seeking to ban Muslims from the US.
Khan, who is the first Muslim mayor of a major Western city, attacked the Republican nominee for seeking to "divide us" by implying it is impossible both to hold Western values and be a Muslim.
Speaking at events in Chicago and Montreal, the London mayor effectively endorsed Trump's rival Hillary Clinton, describing himself as "a big fan" of the Democratic nominee.
Khan did not mention Trump by name, but attacked the New York property tycoon's controversial proposal to ban Muslim immigration to the United States, which he made after the Orlando massacre.
Speaking at a global progress summit in Montreal with Canadian Prime Minister Justin Trudeau, the London mayor said: "Donald Trump said that Muslims from around the world - I'm paraphrasing - would not be welcome into the United States of America.
"Not only does that show a lack of understanding and awareness of the great country that is the USA and its history and legacy, it's also inadvertently playing into the hands of Daesh and so-called ISIS [Islamic State/IS, formerly ISIL] because it implies it's not possible to be a Western liberal and mainstream Muslim.
"I think it's important that the USA maintains her role as a beacon for tolerance, respect and diversity," he added.
Speaking before the Chicago Council on Global Affairs, Khan said it was not for him to "get involved in a presidential election in another country," but went on to throw his weight behind Clinton.
"She's arguably the most experienced candidate to run to be the president," he told reporters.
"As the father of two daughters, I think the message it sends when the most powerful politician in the world is a woman is phenomenal, and hope she wins."
Clinton, who remains the bookies' favorite for the race to the White House, has seen her lead in the polls against Trump drop significantly in recent days.
A CNN poll of polls released on Thursday found the former US senator leads against Trump by just two points with voters who are likely to cast their ballot.