Brothers planning 'IS-inspired bomb attack' arrested by London terrorist police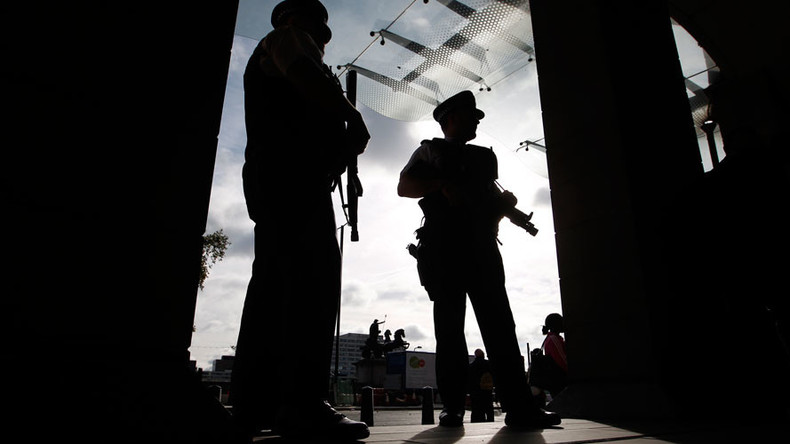 A suspected Islamic State-inspired bomb attack has reportedly been uncovered by London's counter-terrorism officers in what has been described as the most "significant" terrorist plot against the capital in two years.
During dawn raids in west London on Thursday, detectives arrested two brothers, aged 19 and 20, over fears they were trying to acquire automatic weapons and chemicals to make bombs.
Their alleged targets were unclear but were thought to be random members of the public rather than the military or police. MI5 reportedly fears the pair were plotting to build a bomb similar to those used to kill 52 people on public transport in the capital on July 7, 2005.
The alleged plot was said to be at the very early stages, but security chiefs suspect those arrested were inspired by Islamic State (IS, formerly ISIS/ISIL) in Syria and are investigating if they were in direct contact.
The 20-year-old was arrested on suspicion of funding terrorism and failure to disclose information regarding an act of terrorism. He was also held on suspicion of preparing terrorist acts under a separate probe by the South East Counter Terrorism Unit.
He has been released on bail until early November, Scotland Yard has said.
The 19-year-old, believed to be the ringleader, remains in police custody on suspicion of preparing terrorist acts.
A third man, Ali Esayed, 19, who is originally from Iraq and is allegedly connected to the brothers, was arrested in southeast London on Thursday by counter-terrorism officers on suspicion of a religiously aggravated offense.
He was also released on bail until mid-October.
One line of inquiry is that the group may have planned simultaneous copycat suicide missions like those seen in Paris last year. Officials said the suspects are not "lone wolves" but are believed to have joined forces after being inspired by violent Islamist material online.
The current terrorist threat level in Britain is considered severe, meaning an attack is highly likely.
UK police chiefs have become increasingly nervous following the spate of terrorist attacks in France, Germany and Brussels.
Metropolitan Police Commissioner Sir Bernard Hogan-Howe warned it is a case of "when, not if" the UK will be hit by IS-inspired terrorists.
Last month, Assistant Commissioner Mark Rowley, in charge of the UK's counter-terrorism operations, said his officers were currently carrying out "hundreds of investigations" into terrorist suspects and facing a "steady flow" of plots by stay-at-home jihadists inspired online.
More armed officers have been deployed across London in recent weeks, and the Met Police revealed details of the force's new specialist counter-terrorism firearms officers who are trained to reach incidents and confront gunmen within minutes using high-powered motorcycles.
The latest arrests come just days after the hate preacher Anjem Choudary, 49, was jailed for more than five years after pledging allegiance to IS.
There has been concern that his supporters might try to mount an attack in revenge for his conviction.