'Justice for Mark Duggan' march in London 5yrs after shooting death sparked major riots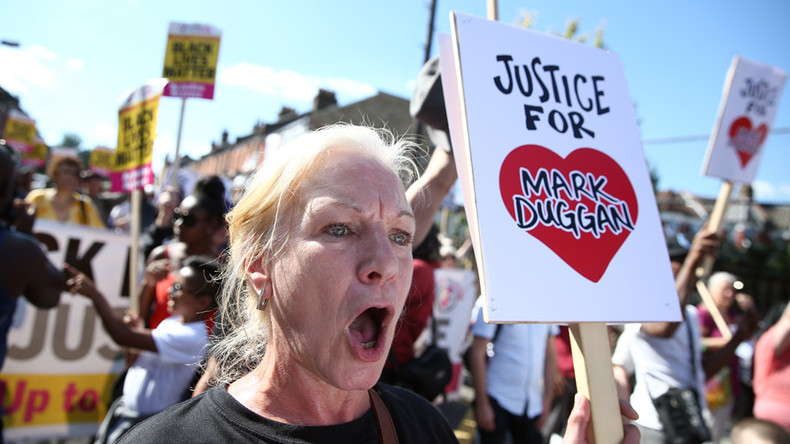 Demonstrators marching in remembrance of Mark Duggan, who was shot dead by London police in 2011, are demanding an end to police brutality on the fifth anniversary of his death, which sparked rioting causing more than £200 million in damage.
For five days, violence and looting spread throughout parts of London as tensions boiled over following the police shooting of the 29-year-old.
An inquest later found that Duggan, the subject of police surveillance on the August 4, 2011, was lawfully killed despite being unarmed when shot by police on Ferry Lane, Tottenham. A jury concluded that Duggan "threw" a gun from a cab shortly before he was stopped by the police.
READ MORE: Jury justifies police killing that sparked UK riots in 2011
Members of Duggan's family say they will seek justice for "as long as it takes" and have joined Saturday's Tottenham Rights & Mark Duggan Justice Campaign march to the local police station.
The demonstration will also pay tribute to five other north London residents who died in custody or during police operations.
Duggan's aunt said the family is still fighting to get justice since "no one was ever held accountable," Carole Duggan told the Huffington Post. "Maybe if police were to come out and hold their hands up like we've said in the beginning… and admit what they've done, we may be able to move on."
Demonstrators marking Duggan's death are walking from Broadwater Farm to Tottenham Police Station, many wearing t-shirts emblazoned with the hashtag #Justice and carrying Black Lives Matter banners.
A screening of The Hard Stop, a 2015 film about the shooting and subsequent upheaval across several cities in England, is also planned.
READ MORE: #BlackLivesMatter briefly blocks road to Heathrow Airport, more action planned across UK
Saturday's demonstrations come after Black Lives Matter activists were forcefully removed from a major road linking to London Heathrow airport on Thursday.
Black Lives Matter UK later said that a number of other demos across Birmingham, Manchester and Nottingham had been organized to "protest the ongoing racist violence of the police, border enforcement, structural inequalities and the everyday indignity of street racism."