#BlackLivesMatter briefly blocks road to Heathrow Airport, more action planned across UK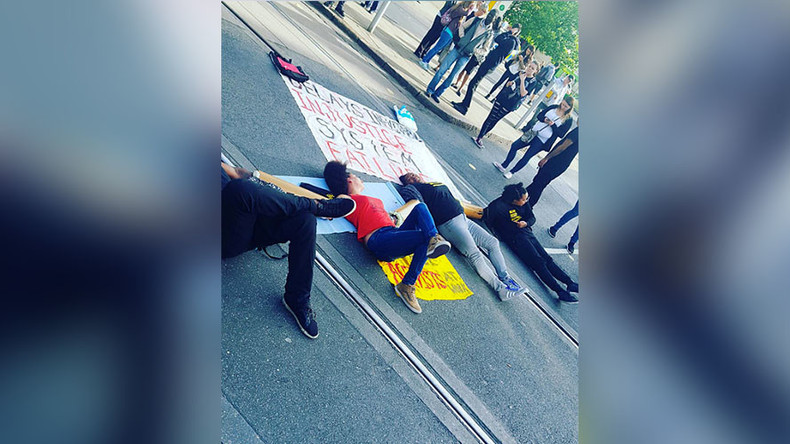 Activists from Black Lives Matter's newly launched UK chapter blocked a major road to London Heathrow, Britain's busiest airport, on Friday morning. Police have made ten arrests.
London Metropolitan Police say four people were arrested and taken to police stations where they remain in custody.
A further six people have been arrested but remain at the scene. Police are in the process of extracting the protestors who are chained together.
Police claim there have been no injuries.
The protest appears to have come to an end at the airport, with Heathrow tweeting that the M4 is now open.
Protestors had also targeted Birmingham airport and the tram system in Nottingham in what the group has called a "nationwide shutdown."
Activists are calling for a day of rebellion across Britain with more demonstrations planned across the country.
Hundreds of people are expected to attend the events, which fall on the fifth anniversary of the death of Mark Duggan, who was shot dead by police in Tottenham in summer 2011, and five years on from the riots that swept England as a result of his death.
At Heathrow Airport, protesters were lying across the road with signs saying "Black Lives Matter" and "This Is A Crisis."
Black Lives Matter UK has released a statement, saying: "This morning UKBLM have #Shutdown roads in London, Birmingham, Manchester and Nottingham to mourn those who have died in custody and to protest the ongoing racist violence of the police, border enforcement, structural inequalities and the everyday indignity of street racism.
"We stand in solidarity with the families and friends of all who have died at the hands of the British state. We take action because justice has not been delivered through conventional means: the police, the IPCC [Independent Police Complaints Commission], the courts or the legislature."
The group says black people are overrepresented by more than a factor of two for deaths in police custody since 1998, are 37 times more likely to be stopped and searched than white people and three times more likely to be arrested than white people.
It claims there has been a 57 percent rise in reported racist hate crime since the EU referendum of June 23, in which Britain voted for a Brexit.
Police set up screens around the protestors at Heathrow and Nottingham.
A spokesperson for Nottinghamshire Police said the screens were erected to prevent distraction for motorists.
A Heathrow spokesperson said the protest did not appear to be causing people to miss flights, saying: "Heathrow supports the right to peaceful protest within the law, but the safety and security of our passengers, aircraft and colleagues, together with the smooth running of the operation, is paramount.
"We are sorry to those passengers whose journeys are being disrupted and we are working with the authorities to resolve the issue."
Birmingham Airport traffic also briefly ground to a halt after protesters blocked the road on Friday morning.
A spokeswoman for West Midlands Police said five people were arrested for "causing an obstruction," according to the Express.
According to the Daily Mail, paramedics in an ambulance trying to rush a patient to Birmingham hospital were held up by the activists.
In Nottingham, activists were also lying on the roads in protest, blocking traffic between Parliament Street and Market Street.
A Nottinghamshire police spokesman said: "Officers are currently on scene and are negotiating with a small number of protesters.
"Our priority will remain the safety of everyone involved and to bring the demonstration to a peaceful conclusion."
Twitter reacts to protests
The protests are getting an unsympathetic reception among some Twitter users, who say they are disrupting holidaymakers and people trying to get to work.
But there is also plenty of support for the protests.
There have been several Black Lives Matter protests in the UK in recent weeks, in solidarity with citizens marching against police shootings in the US.
You can share this story on social media: