Man admits to murdering Glasgow Muslim shopkeeper Asad Shah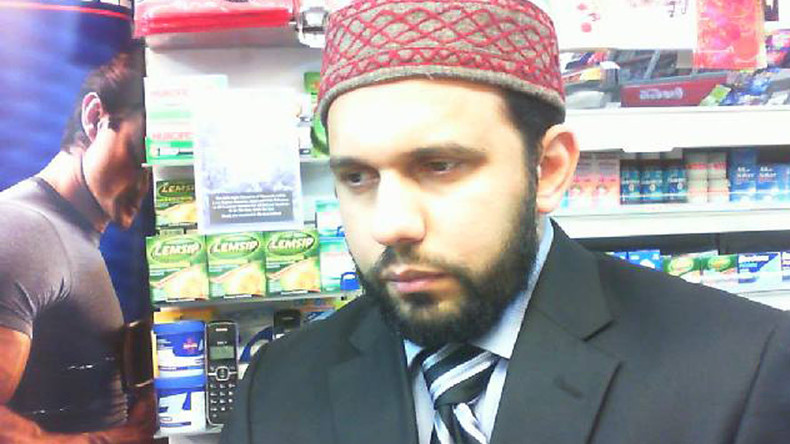 A 32-year-old man from Bradford admitted to killing Glasgow shopkeeper Asad Shah in a religiously motivated attack, which many have called Scotland's first Muslim sectarian murder.
Shah, who had wished Christians a Happy Easter in a peace message on Facebook hours before the attack, was stabbed outside of his shop in the south-side of Glasgow on March 24 and later died in hospital.
Tanveer Ahmed traveled from West Yorkshire and stabbed the victim with a kitchen knife 30 times. The Uber taxi driver pleaded guilty to the attack at the High Court in Glasgow.
READ MORE: 'Convert or die': Leaflets telling Muslims to attack Ahmadi followers found in London mosque
Shah, 40, belonged the the Ahmadiyya sect of Islam, a minority group which is often persecuted for its beliefs. The shopkeeper was a popular member of the multicultural Shawlands community and often posted videos on Facebook and YouTube about his spiritual beliefs.
Prior to the attack, Ahmed had seen the videos online and said: "Listen to this guy, something needs to be done, it needs nipped in the bud [sic]," the court heard.
After killing his victim, the taxi driver calmly walked to a nearby bus shelter and sat "head bowed in prayer" and waited for police to arrive.
Once officers arrived at the scene, he told them: "I respect what you do and I have nothing against you so I am not going to hurt you. I have broken the law and appreciate how you are treating me."
READ MORE: Muslim shopkeeper who wrote loving Easter posts stabbed to death in 'religiously prejudiced' attack
Presiding Judge, Lady Rae said: "This was a truly despicable crime, motivated, it seems by your sense of offence at a man's expression of his religious beliefs, which differ from yours."
"Let me be clear, there's no justification whatsoever for what you did."
Ahmed has reportedly been an avid supporter of Pakistani extremist Mumtaz Qadri, who was hanged earlier in the year for killing the governor of Punjab, Salman Taseer, in 201. Taseer had spoken out against the country's controversial blasphemy law, according to the BBC.
In a statement released through his lawyer shortly after the killing, Ahmed said he carried out the attack because he believed Shah was falsely claiming to be a prophet.
READ MORE: Man charged with murder of Muslim shopkeeper in Glasgow says victim 'disrespected' Islam
"It is mentioned in the Quran... no-one has the right to disrespect the sayings of the Prophet Muhammad, peace be upon him, and no-one has the right to disrespect the Prophet of Islam Muhammad, peace be upon him," the statement read.
The court also heard how the accused maintained he was not hateful towards Ahmadiyya Muslims as a sect, but more over Shah's comments in his online videos.
The victim's family, however, said they did not feel safe in Scotland with some intending to leave the country.
"We never thought that we could be in danger here," Shah's parents said. "We feel imprisoned by our pain and suffering and we have little hope ever ever having a normal life again."
The killing prompted outrage from Ahmadiyya communities across the UK who called on authorities to do more to protect the minority group.
Ahmed will be sentenced on August 9.